I Was [Literally] the Only Person On Mt Pugh Today
I took a chance on being able to summit Mt Pugh today. I've been following recent trip reports and most everyone has had to turn back due prior to summiting to snow. However, on my summit of Mt Dickerman two weeks ago, I saw an awful lot of green grass, trees, etc, as well as exposed rocks on the west side of Mt Pugh, which suggested to me that it was time to give this one a try.
This is the photo I'm referencing: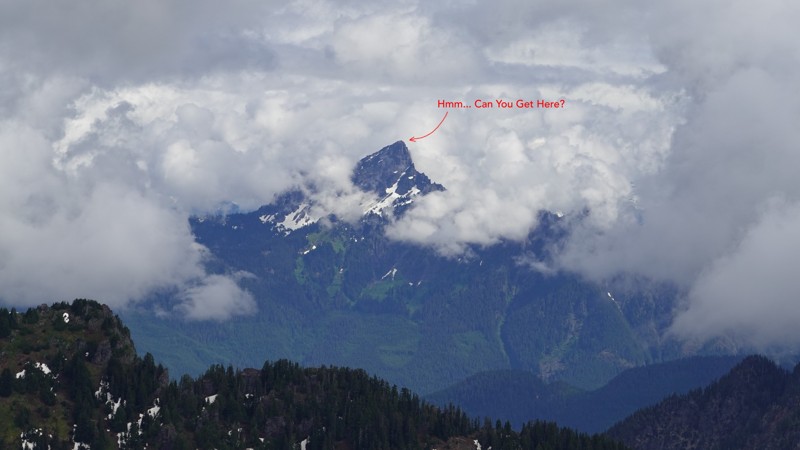 "
Looking north at Mt Pugh. That mountain is looking rather summit-able.
"
The WTA description for Mt Pugh contains the following:
"But you'll have to earn the views on this hike. Even for conditioned hikers this is a physically demanding hike with almost 5,300 feet of elevation gain in a little over five miles."
I can confirm this. It is a little over 5 miles, and I only showed 4,745' of total elevation gain, but the hike itself is very demanding. The talus slopes leading to Stujack Pass are impressively steep. The last mile (after the pass) is on some difficult terrain: a razorback ridge, lots of exposed rock, a precarious crossing across a long-ago-blasted rocky section to get by the permanent glacier, periodic scrambling, and on one or both sides: always a steep and dangerous drop-off.
Before I get too far, here are the vital stats on this one:
Total Distance:
11.2 miles
Water Packed:
155oz (9.7lbs)
When I got home, my Garmin data was super fun: 34,174 steps, 423 floors, 148 bpm (avg heart rate), and 179 bpm (max heart rate).
Here are a couple of useful links: Garmin data and map (there), Garmin data and map (back). And here's my ascent map, courtesy of Garmin: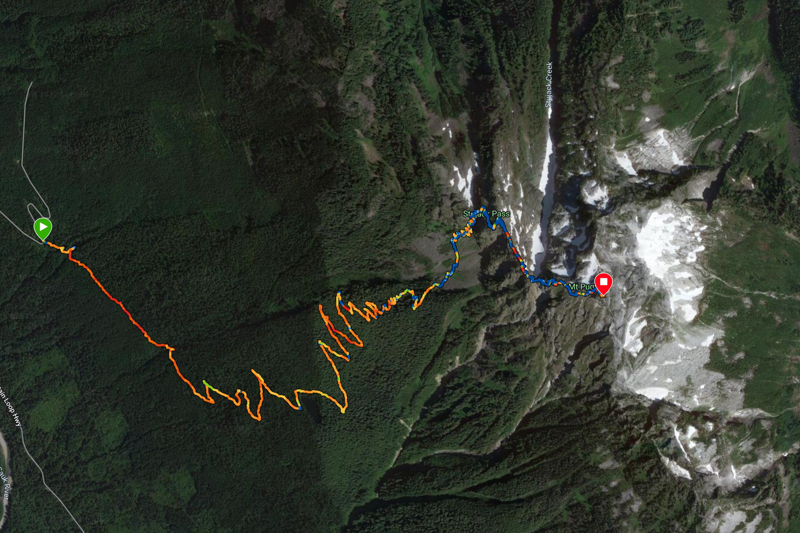 My Ascent Was Unorthodox (But Effective)
Now, two things should jump out at you in the above dataset
I packed a

lot

of water. The reason for this is two-fold, where one reason is entirely rational and one is not. The rational reason is that normally there's no water after the 1.8 mile mark (Lake Metan). I knew it was going to be hot and sunny out (in the mid-80s), and I didn't want to worry about water (good news: I didn't!) The irrational reason is that I had a bad experience on Mt Pilchuck on a similarly bright sunny day last year where I (a) was alone on the mountain (b) lost the trail due to snow and (c) ran out of water, and so I'm sort of in a "

obsess about water

" phase of my hiking.
The trip up was a lot longer than the trip down. This was partially due to elevation gain on the way up, but also due to my wandering around trying to find, and/or re-find, the trail. I turned my Garmin off for a lot of that time, so there's approximately a "missing hour" of clock time in there (my ascent took nearly five hours, which is insane for a hike that's just over five miles).
I find this hike to be quite challenging. Part of the challenge is physical (obviously), but a large part of it is mental. I have a modest fear of heights, and I was entirely alone on the mountain today. After I got to Stujack Pass, my ascent was punctuated by my losing the trail several times and wandering around trying to either (a) get my bearings on the general direction of the trail or (b) re-finding the next section of exposed trail.
There were a handful of false starts (mostly going in the wrong direction), none of them significant, but they added up over time.
Another excerpt from the WTA description of this hike:
"Continue along the knife edge and arrive at a cleft above the glacial trough. Use your hands to continue scrambling, passing an iron ring protruding out of the rock. Sometimes there will be cairns in this section showing the way. This part of the hike is considered a non-technical scramble, but in times of snow or adverse weather conditions it is best left to those with mountaineering experience."
Can confirm: cleft + glacial trough + scramble + iron ring. The cairns are almost useless to me (difficult to spot and spaced too far apart). Trail markers are way better.
The biggest challenge today was that the trail was obscurred by snow at several points, particularly just after Stujack Pass and along the knife edge. It's not an easy trail when there's no snow, so this added an interesting set of challenges. A recent trip report noted:
July 15th (5 days ago):
"Alas, this is where our ascent ended. The trail was once again obscured by a thick but soft patch of snow, requiring us to either scramble up a ledge to the right, or risk a slippery traverse on unstable snow, angled on a steep slope, with only rock and snow below. Even with our spikes and poles, that combination of factors told us to play it safe and come back another day to bag the summit."
I think I know exactly where they stopped. I lost the trail there (trying to scramble up the ledge to the right), and ended up traversing the snow. That section is soon-ish after Stujack pass (if their elevation was 3,400', that gets you in the ballpark, location-wise).
For some reason I kept going, carefully marking where I deviated from the trail. I think maybe I didn't want to have to descend thinking I had given up too early, nor did I want to obsess about getting lost on the way down.
I always take advantage of the solitude of hiking to think, and today was no different. These are obviously pseudo-random and in no particular order:
Not many people have summited Pugh this year. Where there were bootprints on or near a snowfield, these had faded into near invisibility due to snow melt (and the fact that it didn't seem like there were all that many of them).
My route-finding skills are improving over time. This was a really difficult hike. Because sections of the trail were hidden under huge fields of snow, this necessitated route-finding around the snow (and sometimes across it), and I spent quite a bit of time on the ascent wandering around near the trail trying to find where to re-join it due to snow.
I deployed around 50 trail markers on the ascent. This was due to the difficult nature of this trail, plus the difficulty of route-finding (and therefore going off-trail for some parts). This was a great idea. The markers are like little lighthouses on the descent - I got so happy every time I saw one of them.
I'm better prepared, gear-wise, these days. I felt really good about the gear I brought, and the amount of water (though excessive as it was). Even though it took way longer to summit than I expected, and it was hot and sunny, water never concerned me. I had some snacks, water, some gear for sun protection, and extra battery, some connecting cables, and a backup camera. I didn't worry that I was missing anything at any point during the entire hike.
I cached water in two places on the ascent: at the base of the talus slopes leading to Stujack Pass, and at Stujack Pass itself. I left partially filled boxes of water in both places so I knew I'd have a store of water on the descent (without having to lug all that water to the summit).
The may seem absurd but: I'm a little surprised hiking Mt Pugh is legal. It's a dangerous hike, including a number of areas where a misstep could send you tumbling down an impossibly steep ravine. Today I had to cross a handful of these huge drifts of snow on steep slopes and it all just seemed dangerous to me.
After this experience, I keyed in my first ever WTA trip report, as I'm quite sure my experience will be of benefit to others.
I've been watching the calendar rather closely for the past two weeks waiting for a day where the sky would be clear. I was rewarded for my persistence with a clear, bright blue sky and visibility to Mount Rainier (91 miles away, as the crow flies).
Since I took so many photos, I'm going to divide them into three groups:
Summit

: These are easily the best photos.

Ascent

: Both views that opened up along the way plus trail conditions.

Descent

: Some interesting photos on what the trail looks like on descent.
Since this is likely the last thing you'll read, I can tell you that next up on my list of hikes is Del Campo[2].
Please enjoy the beautiful photos below.
All of these were taken from the summit of Mt Pugh. I had 360° of visibility, as well as having the place to myself. This has to be one of the most beautiful places in WA State, if not in the entire Cascade range. Glacier Peak is just staring you in the face, and the river valleys and mountain views are stunning.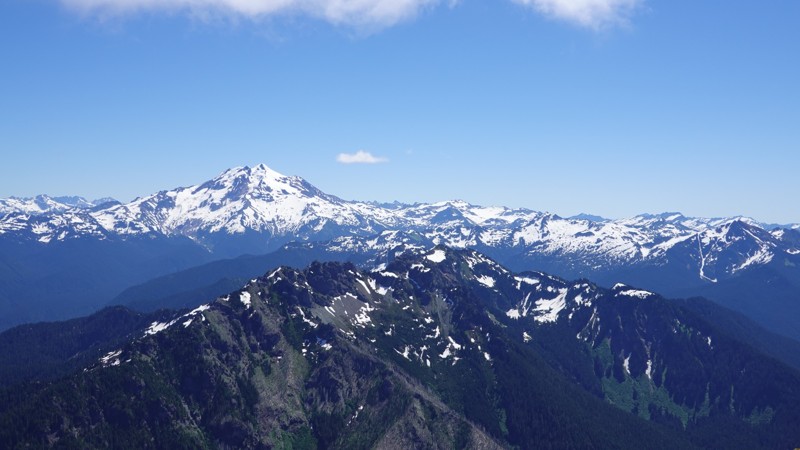 Looking east: towards Glacier Peak.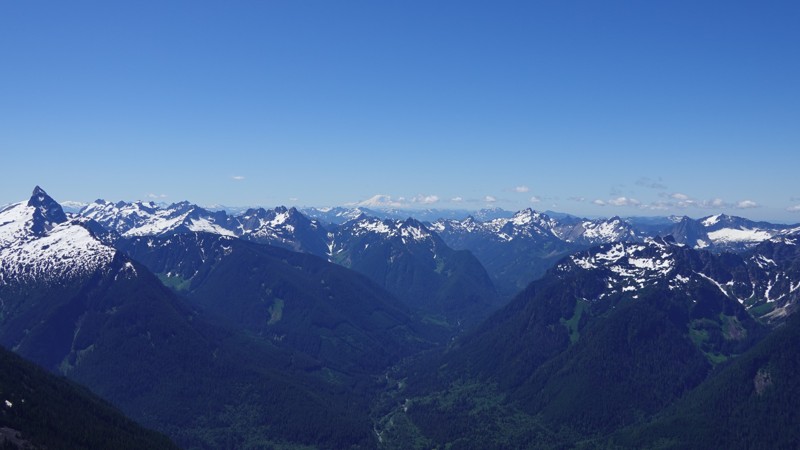 Looking south: Sloan Peak is on the left, Rainier in the center.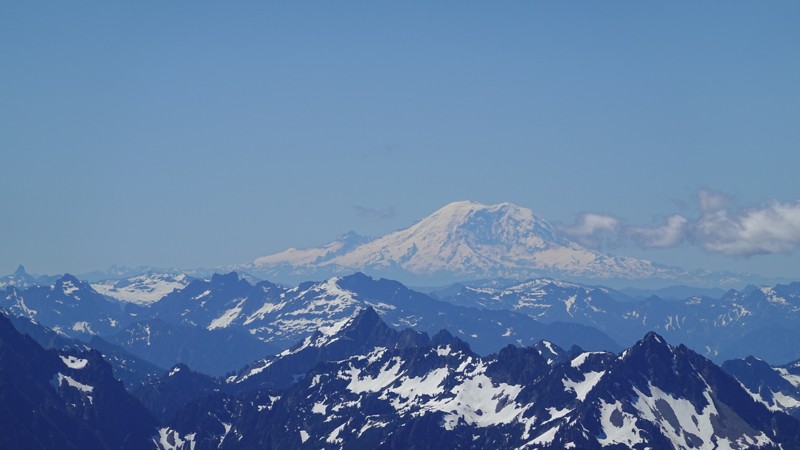 Looking south: Such a clear view of Raininer, 91 miles away.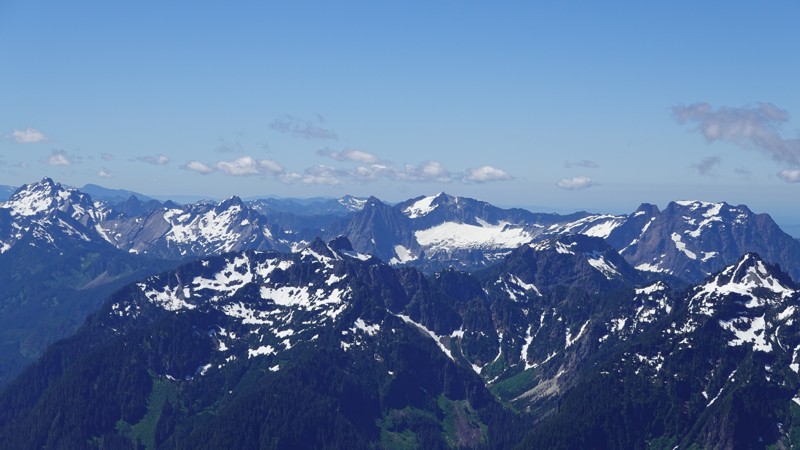 Looking northwest: Del Campo on the left, Sperry (center), Vesper, and Big Four (right).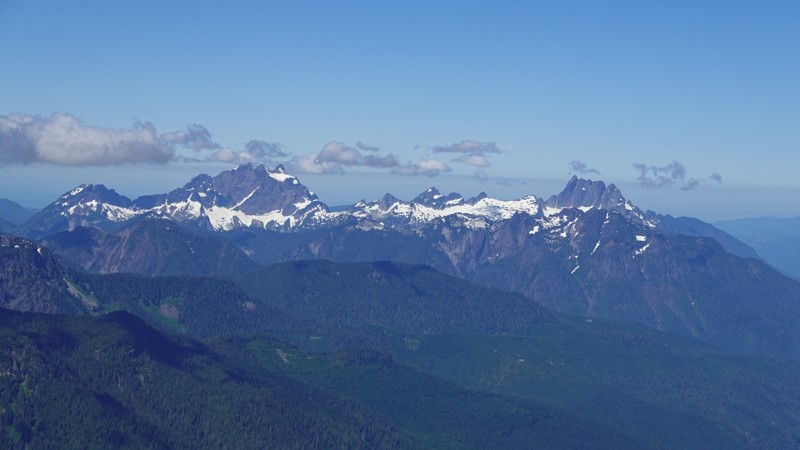 Looking northwest: Three Fingers and [I Think] Whitehorse.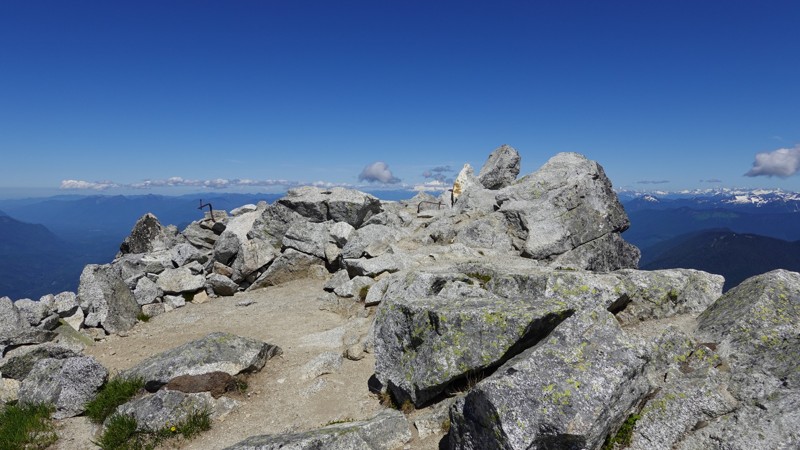 The Summit: There are remnants of the tower that used to be here.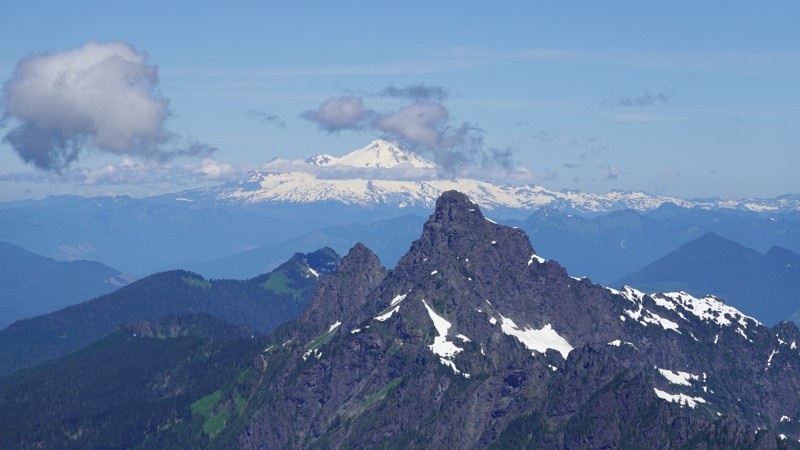 North: White Chuck (forground), Baker (left/back), Shuksan (right/back).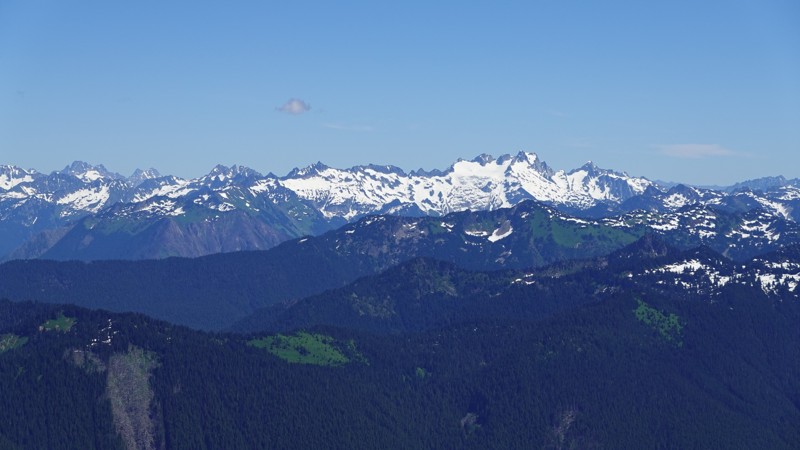 Looking northeast: (mountains to be labelled).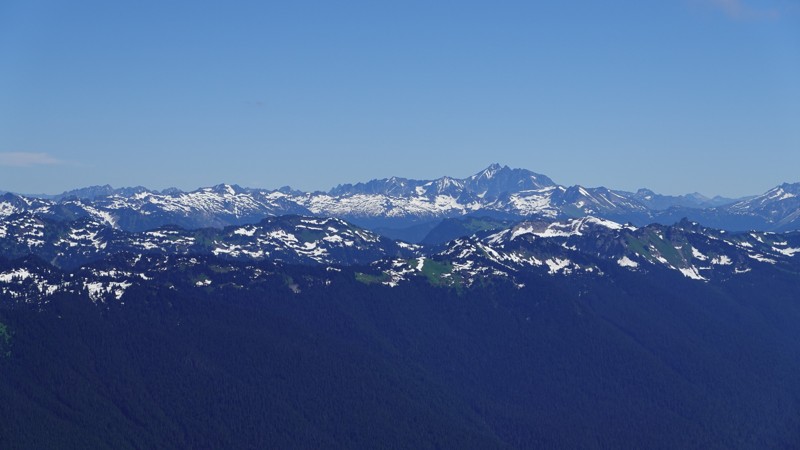 Looking northeast: (mountains to be labelled).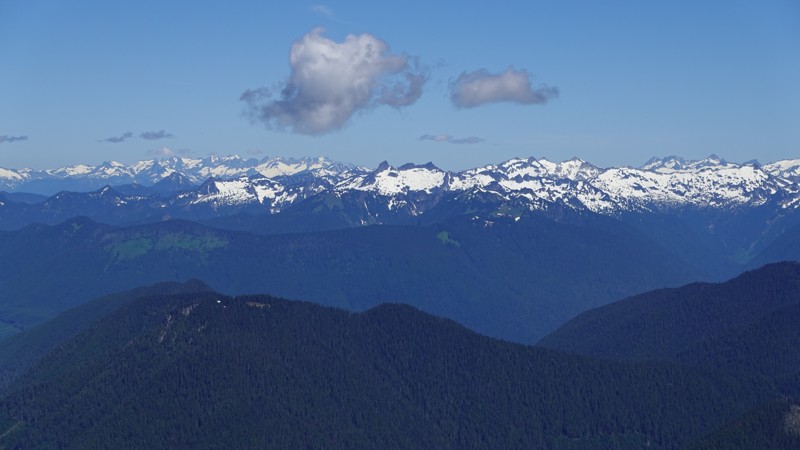 Looking northeast: (mountains to be labelled).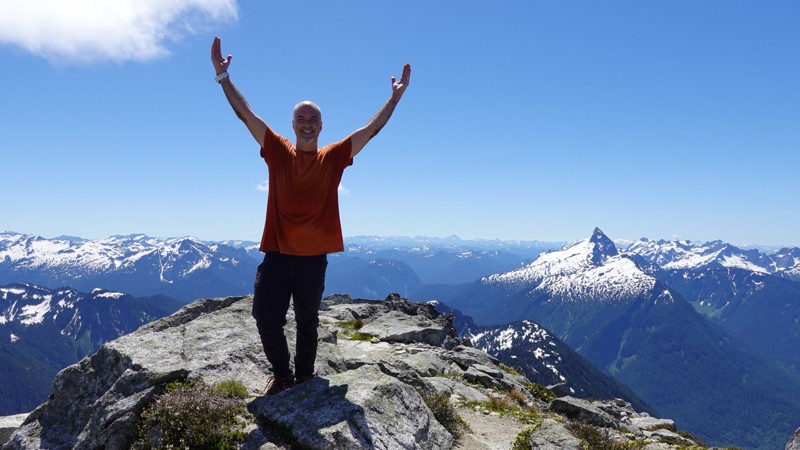 The Summit: A Photo of a Very Happy Guy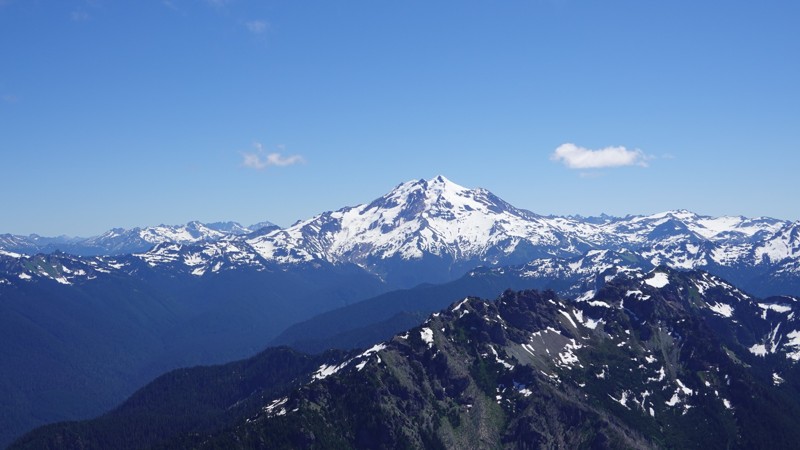 Looking east: Glacier Peak seems so close.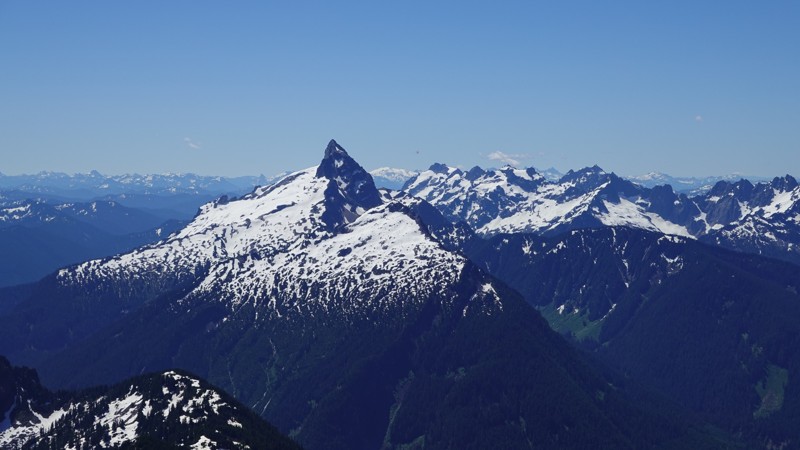 Looking south: Sloan Peak in the foreground.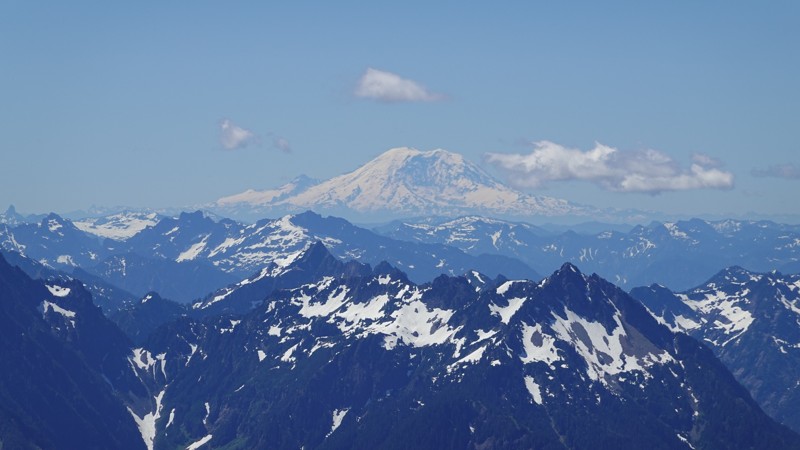 Looking south: another zoom of Rainier.
Looking east: Glacier Peak Wilderness is beautiful.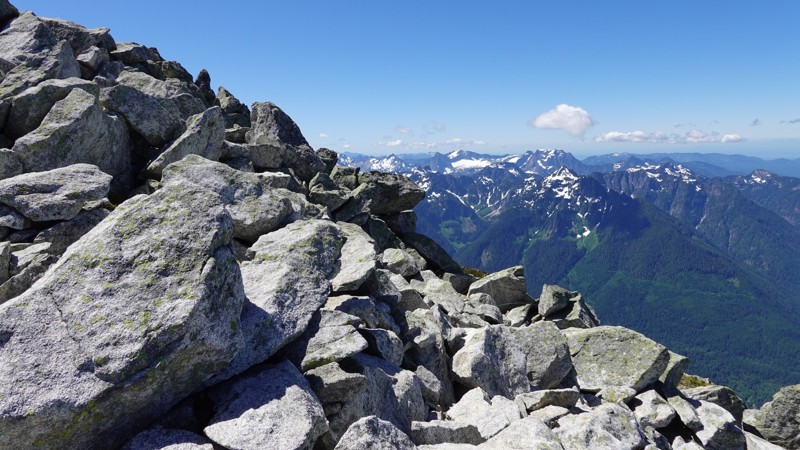 The summit is essentially a huge pile of rocks with a small flat spot.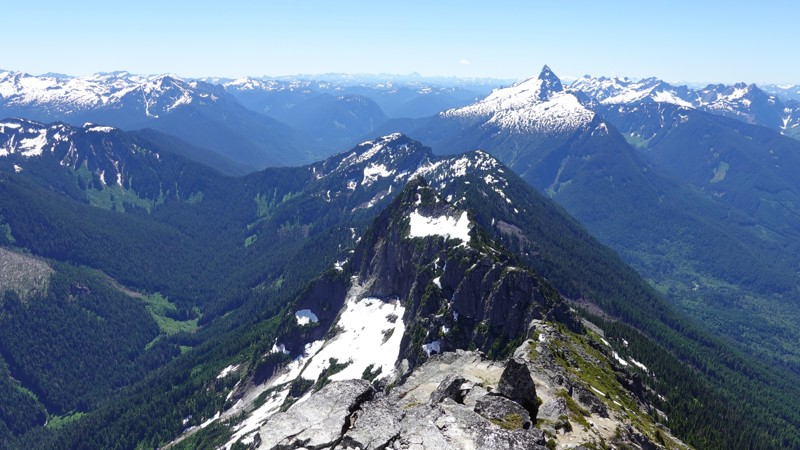 Looking south: It's temping to continue hiking south. It looks like it goes on forever.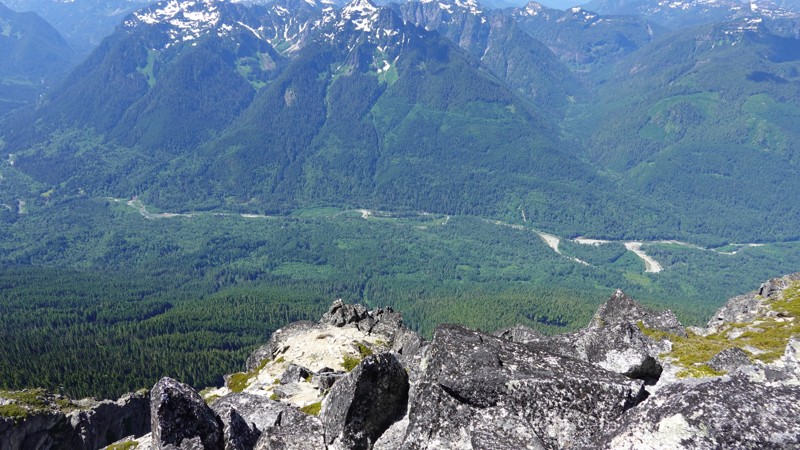 Looking west: The Sauk River valley.
I took out my camera at the base of the talus slopes leading up to Stujack Pass. I tried to capture some of the trail conditions, as well as the views that began to open up along the way.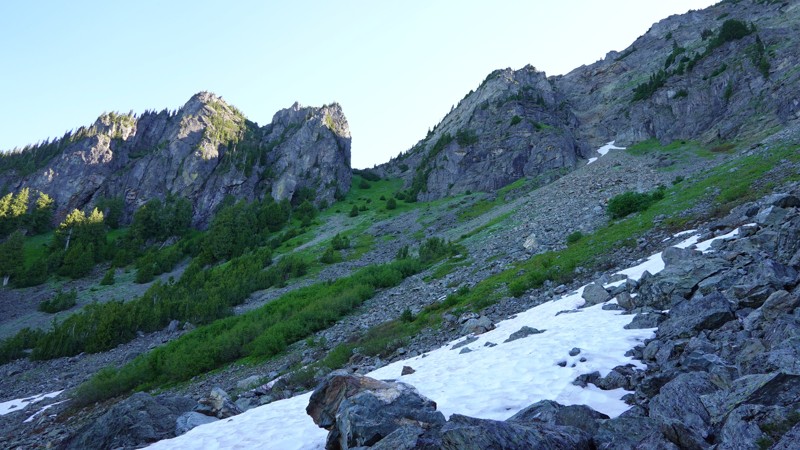 A classic photo: looking up at Stujack Pass.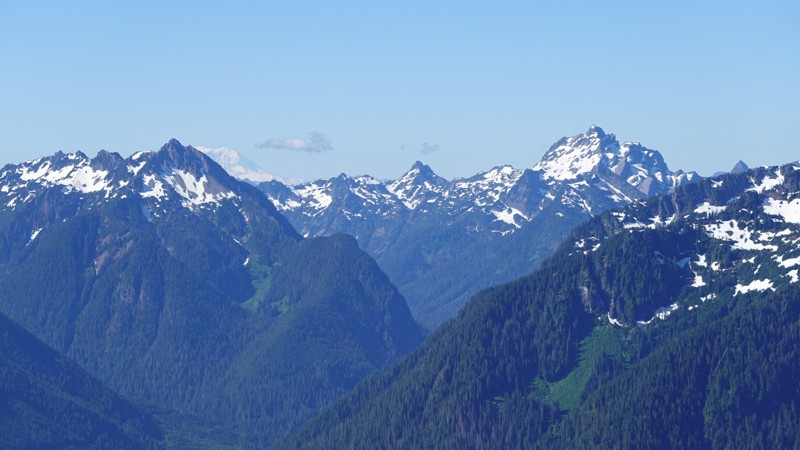 One of the first views: looking southwest towards Del Campo and Rainier.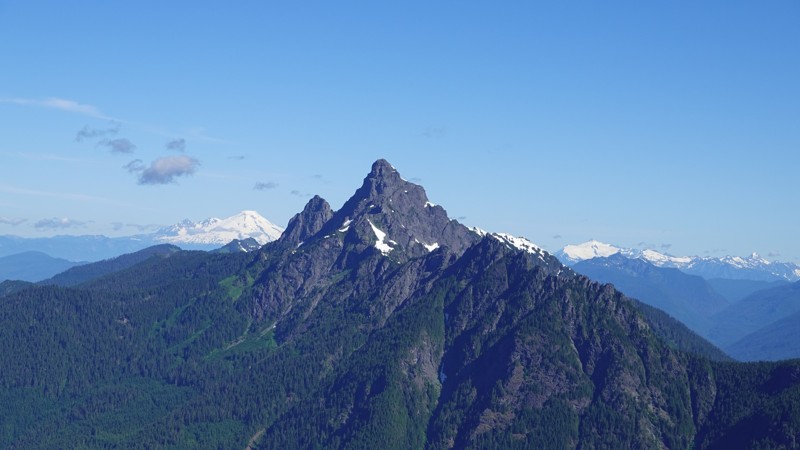 The first thing you see when you arrive at Stujack Pass (N/NE).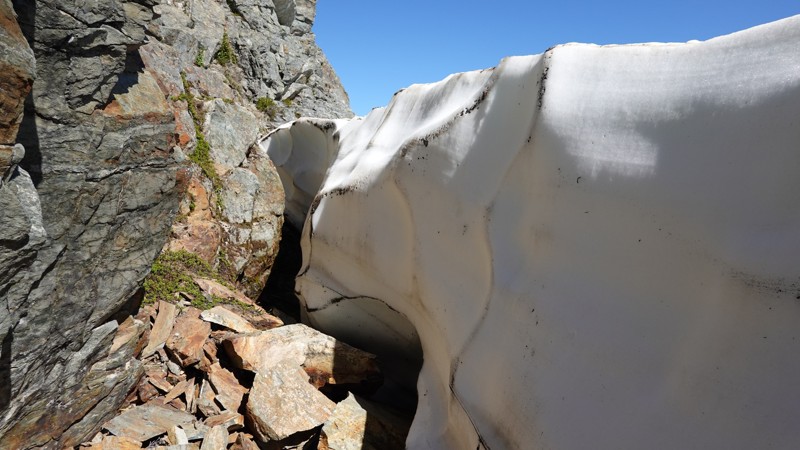 This snowbank is near the glacier field and is 6'-7' tall. You have to hike between it and that rock face.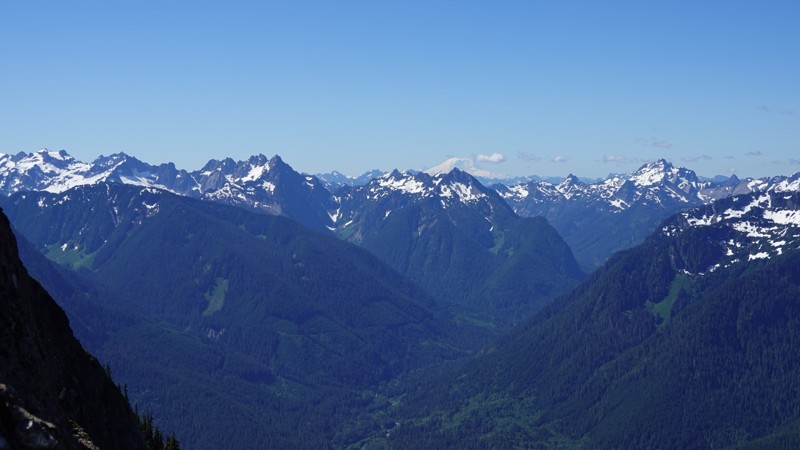 Southwest view from the trail, soon after Stujack.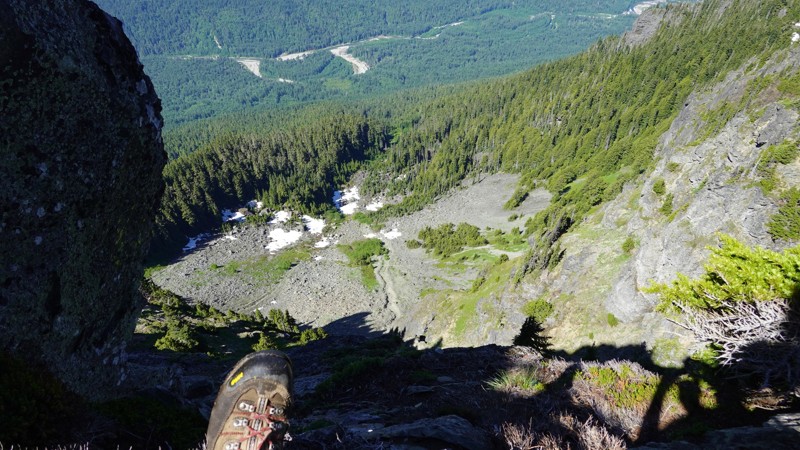 Note the boot in the foreground. That drop is maybe 1,000', nearly straight down.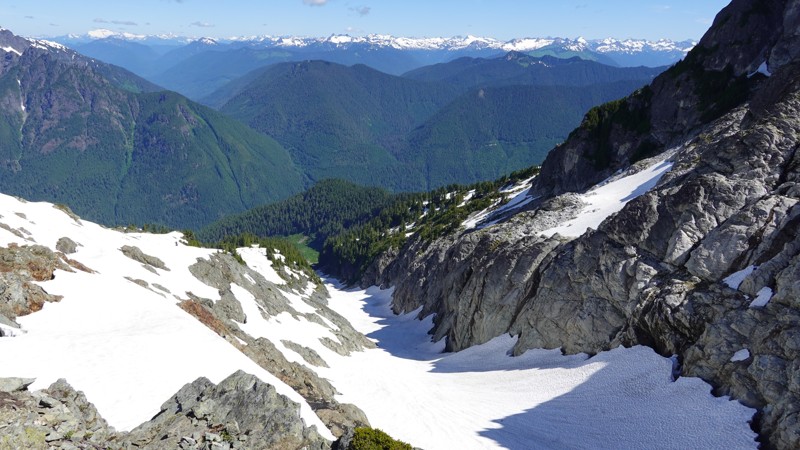 Looking across the glacier field (west to east). That's technically "Stujack Creek".
The trail gets fun here. Very rocky, very narrow.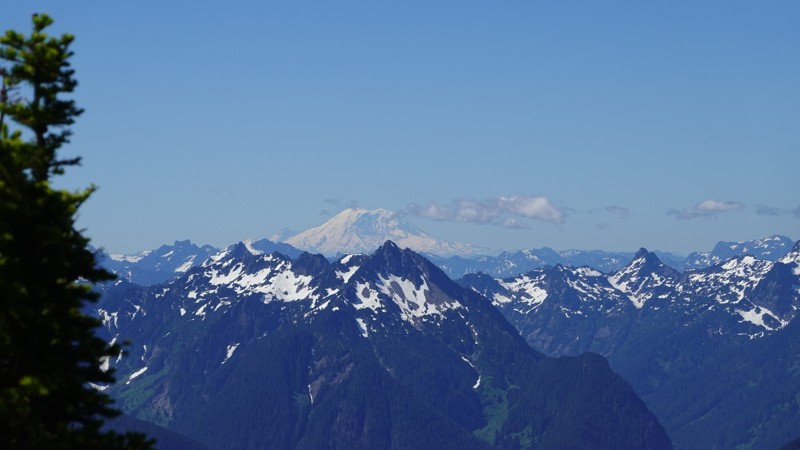 There's a tiny, shaded viewpoint along the way.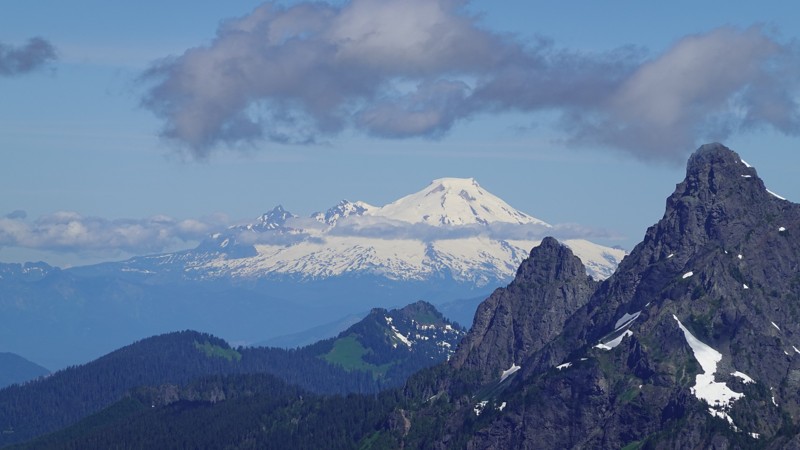 As you ascend, the views of Mt Baker get better and better.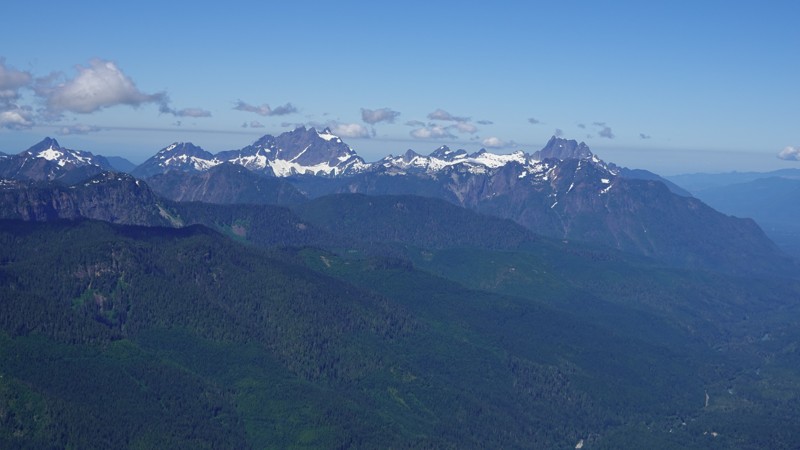 Mountains to the northwest, over the Sauk River valley.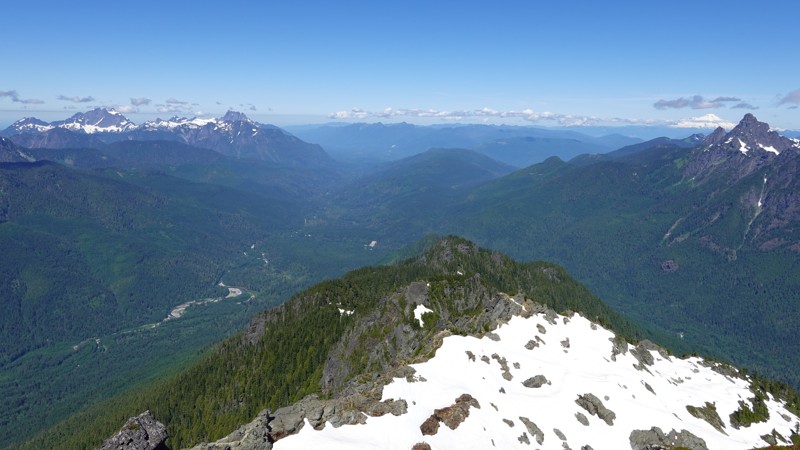 Looking directly north over the narrow ridge that the trail follows.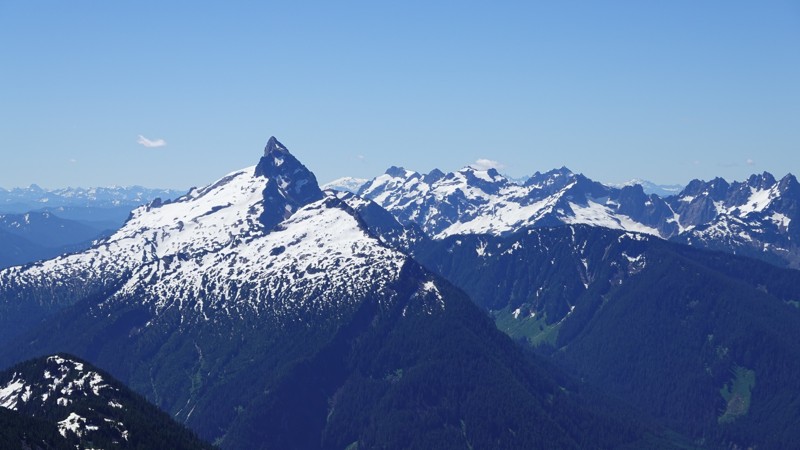 The first full south view that opens up, prior to reaching the summit. Mt Sloan is in the foreground.
Some beautiful (and precariously balanced) rock formations, as you begin to see the summit itself.
This hike looks very different on the way down than it does coming up. The view back across the permanent glacier field is pretty rad. If you see my hand in a photo, it's an attempt to show perspective in the photo (usually a super steep drop-off).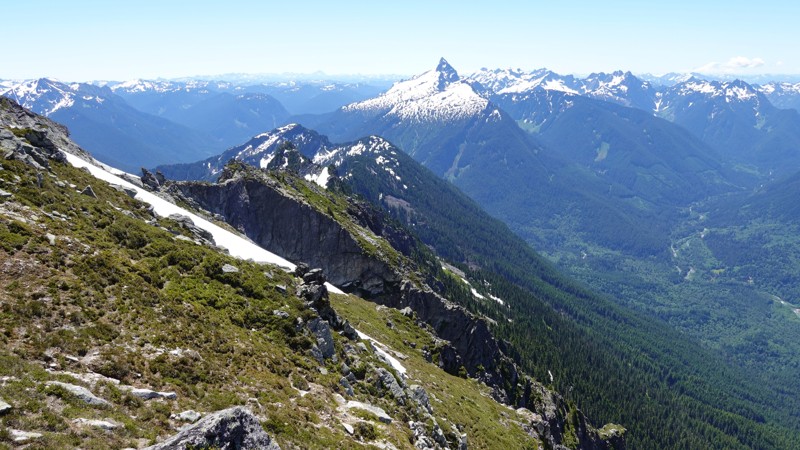 Looking back, south, seeing the grassy slopes and rock formations.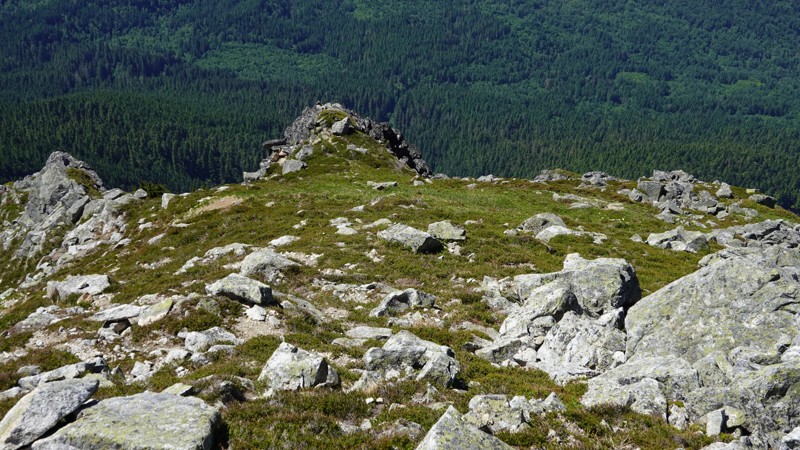 You could have a picnic on that spot (though you'd have to keep from tumbling down the slope).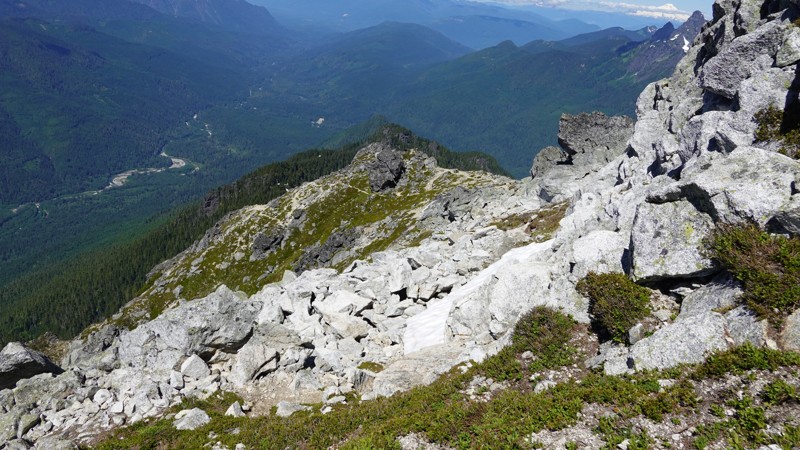 The terrain here is beautiful: it's both rugged and welcoming, at the same time.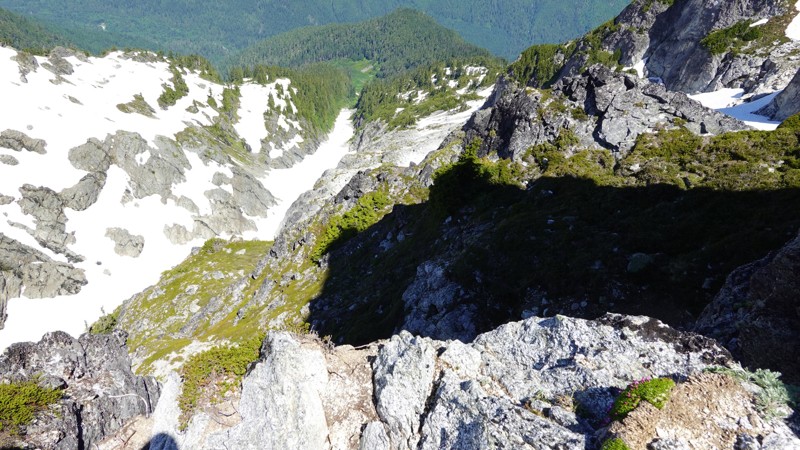 Arrival at the permanent glacier field. You can follow the glacier as it heads east.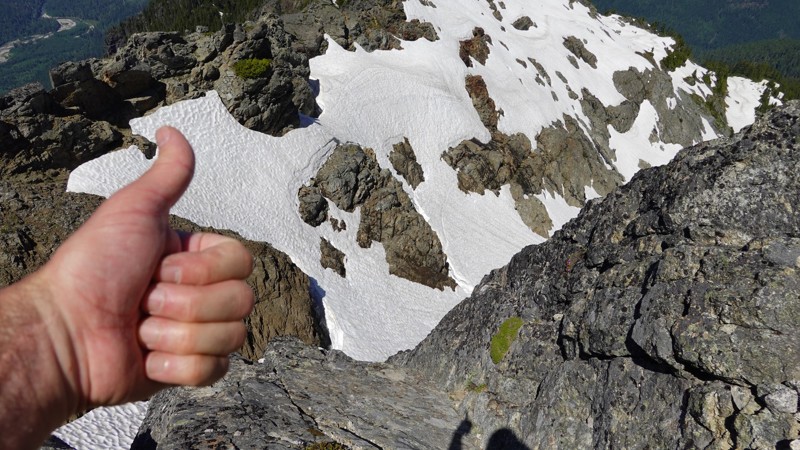 Hand for perspective: that's a crazy-far drop right there.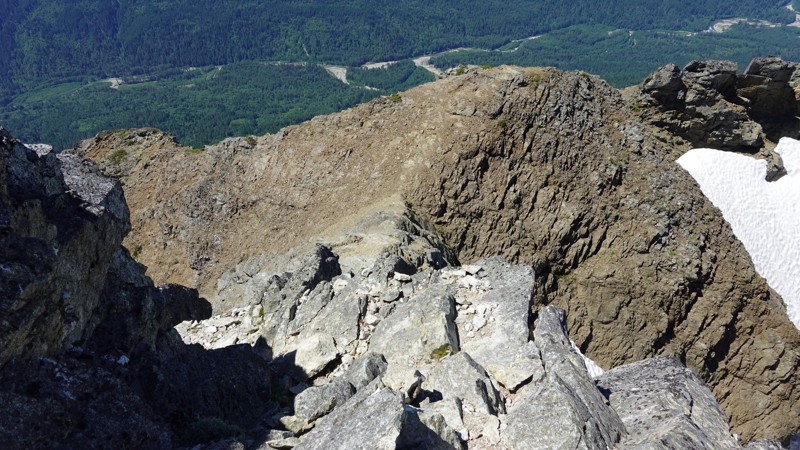 Looking down at the blasted rock section, allowing traversal by the glacier.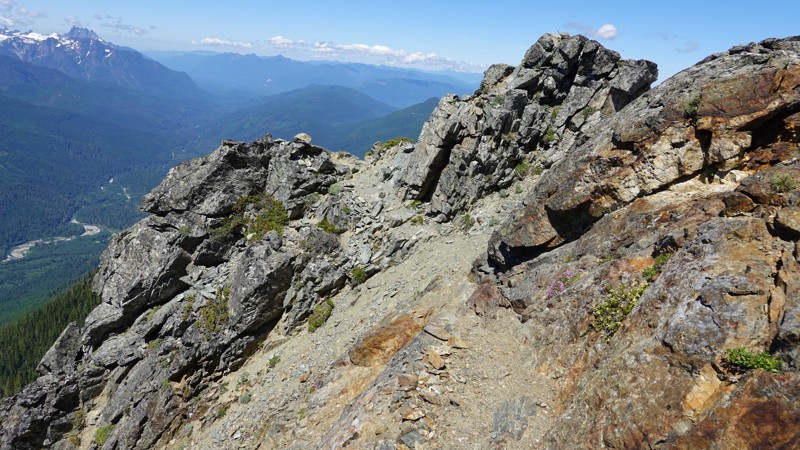 Narrow trail over the razorback ridge.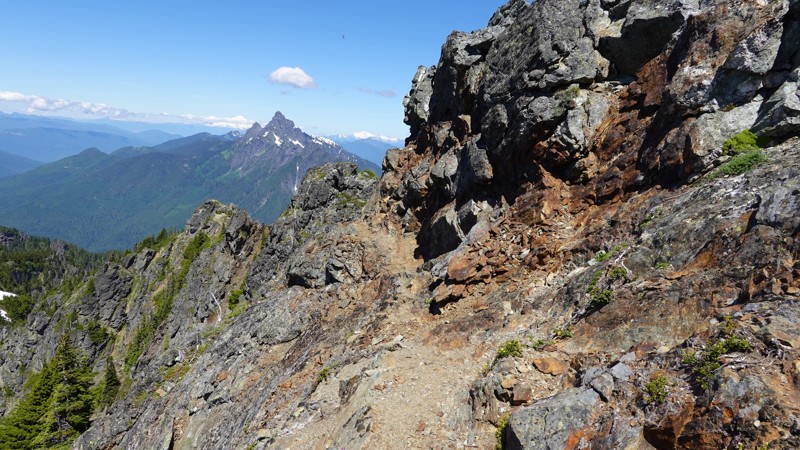 Similarly narrow trail. It's easier to walk than it looks.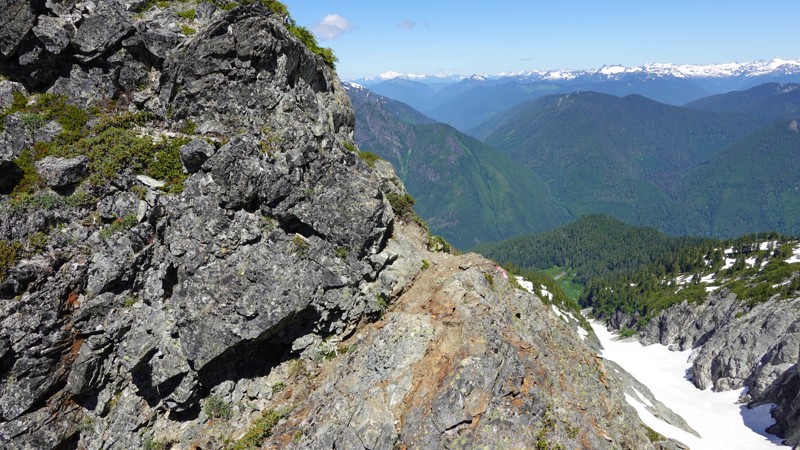 Razorback ridge, steep drop-off to the right into the glacier field.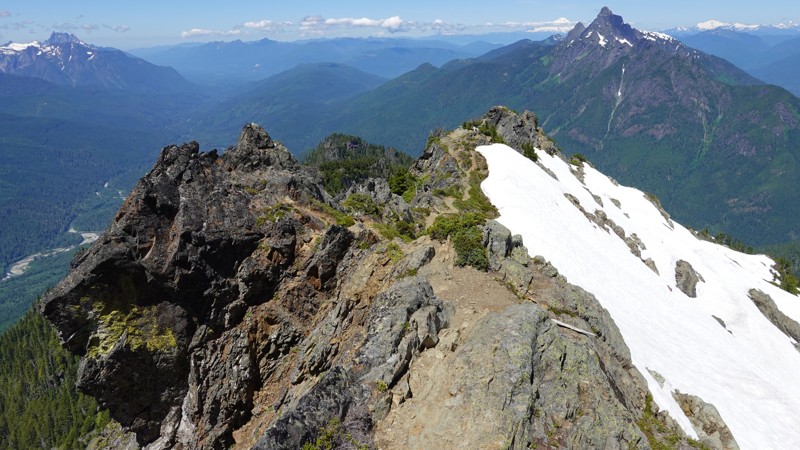 You can get a decent sense of the overall terrain from this photo.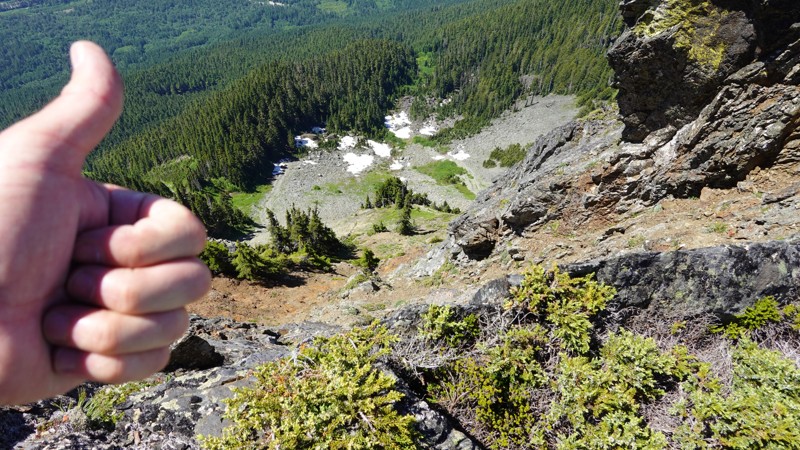 Another hand for perspective: that drop-off is insane.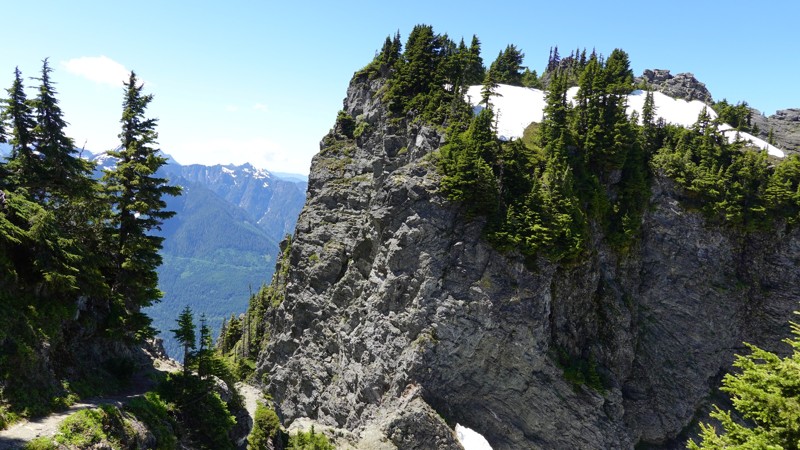 Stujack pass, from above.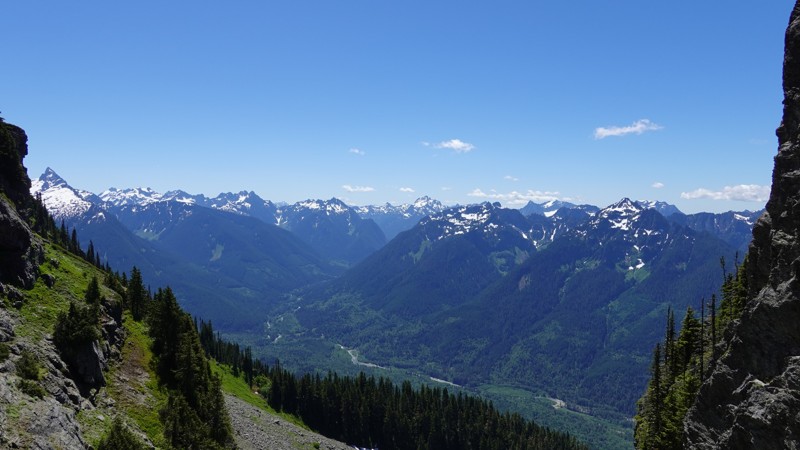 The sky was bluer (and the greens greener) in the early afternoon than it was when I ascended.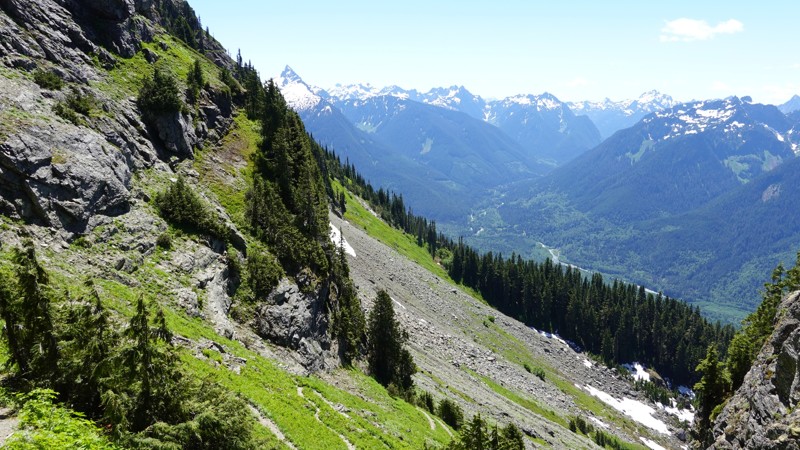 The talus slopes leading up to Stujack Pass.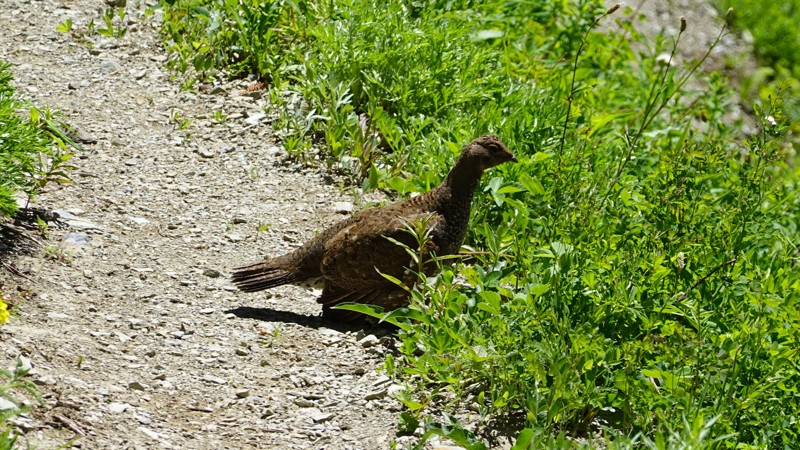 I met this partridge on the way down. We hiked together for maybe 20' before she flew off.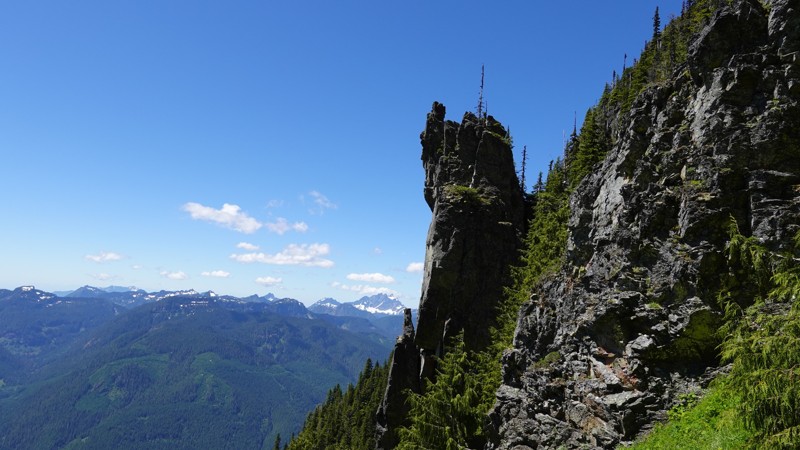 A classic photo: this rock promontory adjacent to Stujack Pass.
Panoramas are kind of cool, just a bit long and skinny. I grabbed on facing west and one facing east. Both are clickable and both have hi-rez download links below each one.

West Panorama:
Click here
for a high-rez version (8192x1856, 3.8MB)

East Panorama:
Click here
for a high-rez version (8192x1856, 4.2MB)