The Cascade Mountain Hiking Season is Over
I took a gamble yesterday and drove to Sourdough Mountain to see if maybe I could squeeze in one last view hike before wildfire smoke covered everything.
Turns out, I couldn't.
Between the late start of the season (due to heavy snowfall well into spring) and the premature end (due to wildfires and wildfire smoke), I was able to hike for a mere eight weeks in total this season, which is a little sad. During those eight weeks I hiked approximately ten times, across 75.3 miles (for an average of 8.5m/hike), with just over 6 miles of total elevation gain.
RIP 2022 hiking season.
Sourdough Mountain is quite the hike. It's just under a mile of total elevation gain against 5 miles of distance travelled, and what makes it interesting is that 3,000 of those feet of elevation gain happen in the 1st two miles.
I now have to re-work my incredibly rigorous and scientific definition of the concept of "steepness of a hike":
Elevation Gain/Mile
Classification
Here's my ascent, and my descent. You'll note I got a little lost near the beginning[1], but quickly corrected my mistake and continued (after some olympic gold-medal level cussing).
I motored up that mountain in 2 hours, 50 minutes (and that was getting lost, which added an extra 1/4 mile of distance). Because it was so smokey on my drive out, I decided to pack two KN95 masks for the hike itself, which came in super handy. I never made it to the summit; the destination on this one is a fire lookout at 5,975'. From there, it's possible to scramble to the summit (something I would normally have done, if there was any visibility at all).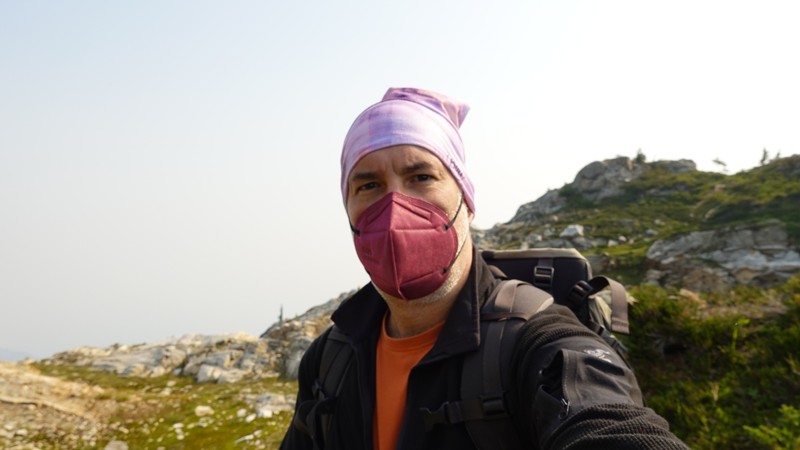 Hiking Sourdough Mountain With a KN95: These Are Interesting, Stressful, and Upsetting Times
The top held the promise of spectacular views, and so I'll be back next year to try this one again.
I could tell things were bad by the time I got to Darrington. I actually pulled over and looked up an air quality report for Rockport, WA, which told me that the current air quality was "medium[2]", so I decided to at least drive to the trailhead and check it out.
Here's a map of wildfires that were in and around WA State on the day of my hike: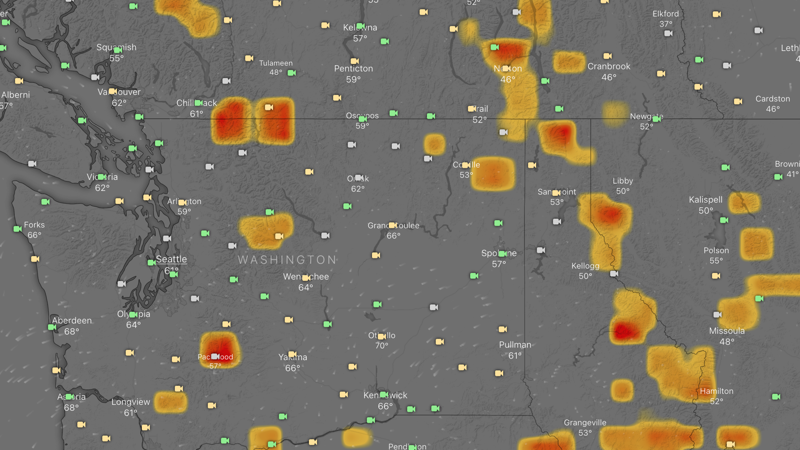 And here's where I was hiking: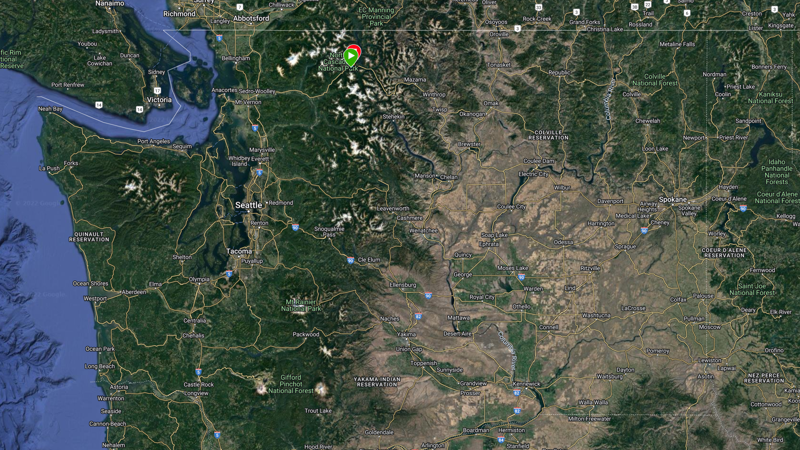 See the problem?
As it turns out, there was no place to run, nor was there a place to hide. Here's a map of PM2.5 (particulate matter 2.5 microns or less in width) for WA State on that same day: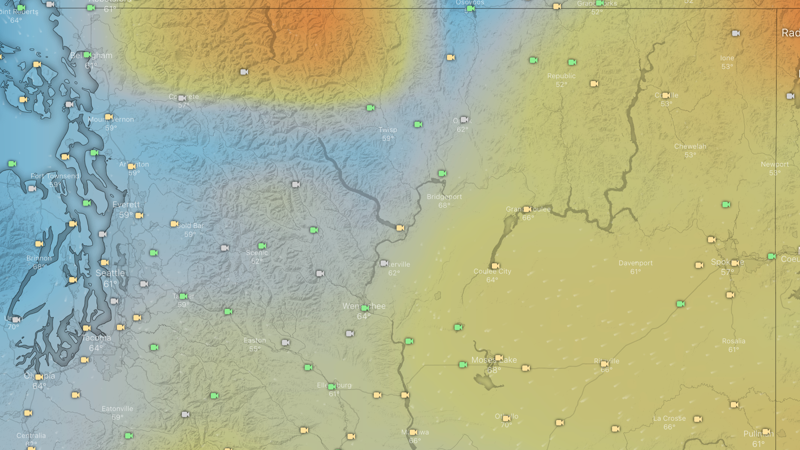 In looking at the total hiking season, during which I was about as aggressive as I could be in terms of hiking at every opportunity, you'll see approx 10 hikes in 8 weeks, beginning in early July and ending in early September:
Date
Hike
Distance
Duration
Elevation Gain
07/06
Mt Dickerman
7.6m
03:53:13
3,505'
07/20
Mt Pugh
11.2m
06:11:47
4,745'
07/27
Del Campo
10.7m
05:49:53
3,610'
08/08
Mount Pilchuck
5.2m
02:37:04
1,850'
08/12
Granite Mountain
7.5m
03:50:20
3,398'
08/17
Vesper Peak
7.0m
04:57:39
3,608'
08/26
Blanca Lake
7.4m
03:42:37
3,360
09/04
Mt Dickerman
8.8m
04:26:31
3,965
09/04
N Fork Sauk Falls
0.35m
Not long
138'
09/09
Sourdough Mtn
9,8m
04:50:43
5,003
The Mountain Loop Highway opened late this year (May 20th), and when it opened, most hikes were not accessible, as they were hopelessly buried under all of the snow we got through late spring.
We'll see how the fall unfolds, but it's expected to be a very cold winter, and so we may see an early closure of the Mountain Loop Highway, whereupon so many awesome hikes will be inaccessible until next summer.
In the meantime, view hikes are probably done for the year, and so maybe I can switch to some lake hikes, where minimal visibility is needed.
It's worth noting that due to the Bolt Creek Fire (9/11), a bunch of hikes near Beckler River are closed. e.g.: Blanca Lake, Baring Mountain, Beckler Peak, etc. I expect to see more of this over the next few days as wildfires intensify.
There are also major fires in Skykomish, the White River Wildlife Area, just east of Darrington, near Packwood (and it's a massive fire), and of course the two near the Canadian border, so I expect to see a lot of hiking closed down for the season.
This seems to be an annual ritual these past few years.
Arguably, I took fewer photos on this hike than any other hike I've been on, but that's okay. This mountain holds the promise of spectacular views. The peak has 360° of visibility and it's elevation (5,985') makes plenty tall to offer up views that extend into Canada.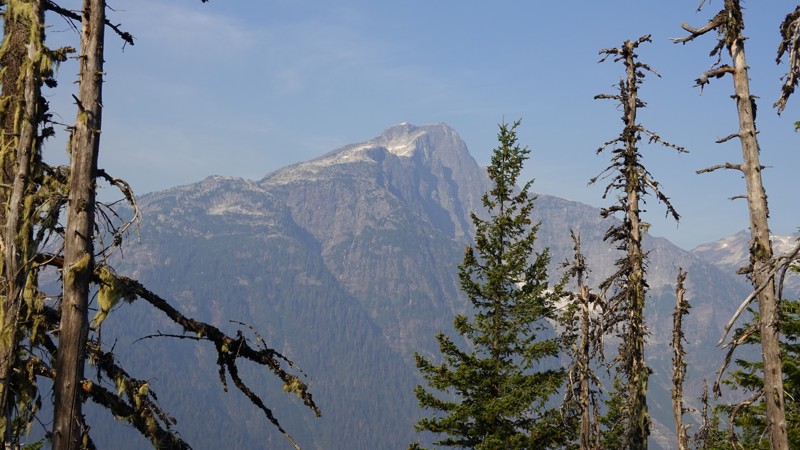 That Mountain Is Very Close, That's the Only Reason I Could See It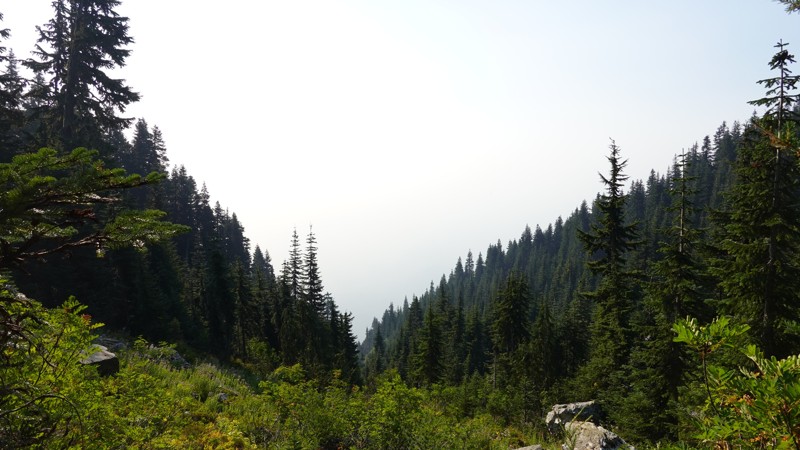 Near the Summit, This "View" Was Completely Obscurred
There Were Some Beautiful Sections Of This Trail: Meadows and Wildflowers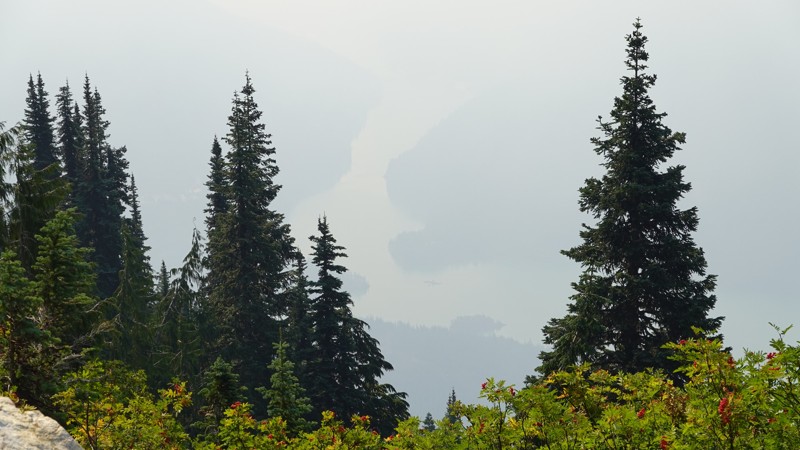 Lake Diablo From Above: One Mile Away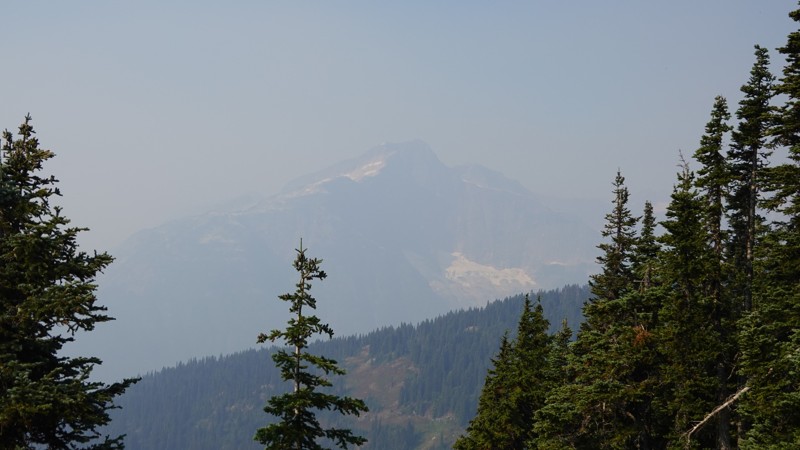 At the Summit, One Could Get Just a Tease Of Just How Beautiful This Summit Is Under Normal Conditions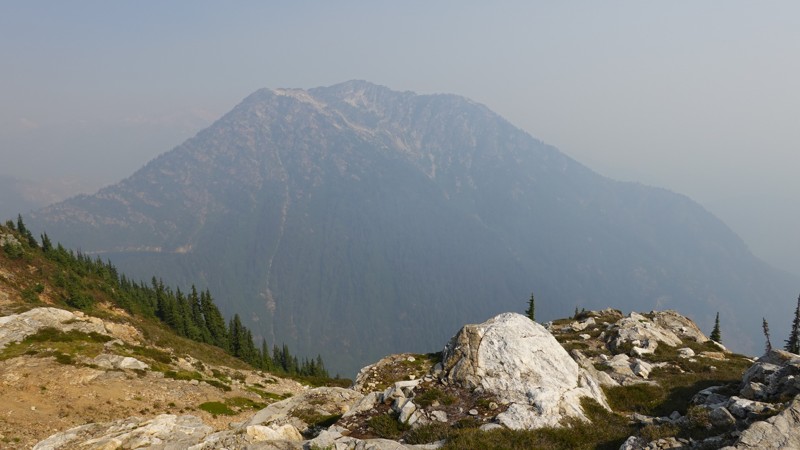 North-Facing View From the Summit (Mt Prophet?). Rumor Has It There Are Glaciers Out There, Which Extend All the Way Into Canada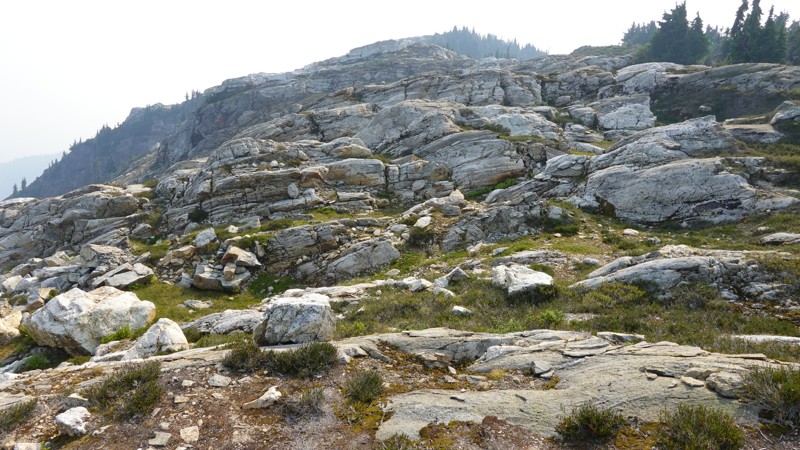 The Lookout Area Was Very Rad. I'll Endeavor To Visit It Again When Conditions Are Better