The Summit of Vesper Peak Is Stunning and Unique
The summer hiking season here in the Northwest is very short this year. On one end, it started late because we got so much snow earlier this spring, therefore most every hike with any decent elevation was still underneath snow all the way through July. On the other end, I think everyone is [rightfully] expecting wildfire smoke in August, which will either (a) make some hikes inaccessible (due to actual wildfires closing off trailheads[1]) and/or (b) make it difficult to hike due to heavy smoke and (c) obscure any views from the summit.
For those of you keeping score, that's a window of July & August, at best.
To that end, these are my July & August hikes thus far:
Date
Hike
Distance
Duration
Elevation Gain
07/06
Mt Dickerman
7.6m
03:53:13
3,505'
07/20
Mt Pugh
11.2m
06:11:47
4,745'
07/27
Del Campo
10.7m
05:49:53
3,610'
08/08
Mount Pilchuck
5.2m
02:37:04
1,850'
08/12
Granite Mountain
7.5m
03:50:20
3,398'
08/17
Vesper Peak
7.0m
04:57:39
3,608'
(If we were playing "Mountain Loop Hiking Bingo", I think someone would have won already)
I managed to summit Vesper two days ago, and it was quite clear that the wildfire season is upon us. While I was in the valley between Morningstar and Sperry, some very thick white smoke settled in, and truth be told it was a bit concerning[2].
This is what I saw, looking north from near Headlee Pass: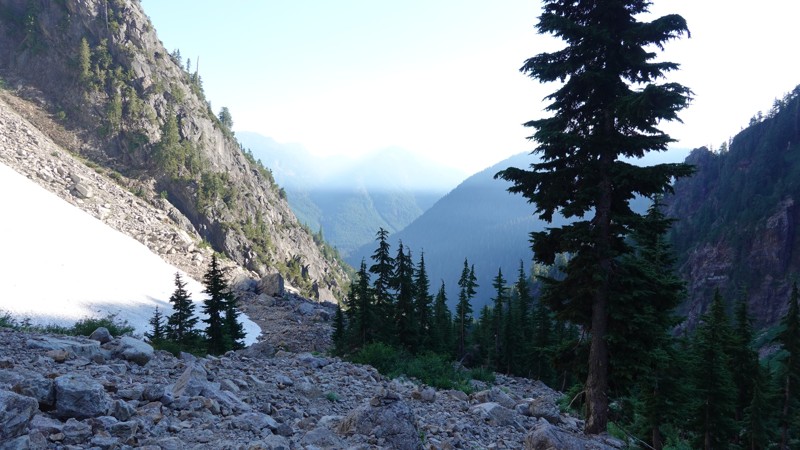 The view was partially obscured at the summit, but I could still see Mt Baker & Mt Shuskan (55 miles away, due north) and Mt Rainier (80 miles to the south), so that's not bad.
Vesper is amazing. It's part of the Gothic Group and includes Del Campo, Gothic Peak, Morningstar, Sperry Peak, and Vesper Peak (among others I'm sure). Nearby mountains are Big Four, Three Fingers, Whitehorse, Mt Baker, Whitechuck, and Mt Shuksan (N), Mt Pugh and Mt Forgotten (NE), Sloan and Glacier Peak (E), and the Monte Cristo Group, which includes thousands of peaks (SE).
It's a really special place to hike, and I think made even better if you've seen Vesper from other vantage points (you're staring it in the face from the summit of Del Campo). If you hike Gothic Basin or Foggy Lake, Vesper, Morningstar, and Sperry may as well not exist, as they're completely hidden by Del Campo.
Don't be fooled by my five hour hiking time. The "clock time" on that hike was about seven hours. Only 30 minutes of that difference can be accounted for by my time at the summit. I found Vesper to be a fairly difficult hike, and was happy that I made it to the summit by 11am, so I could begin my descent before noon and try to avoid the peak heat of afternoon.
To get to the summit of Vesper, there are three main segments of your journey:
The hike to Headlee Pass (pronounced "

heed-ly

"), which is in the valley between Morningstar and Sperry Peak.
Crossing a huge rock field adjacent to Sperry.
A straight-line scramble to the summit, over a field of large, smooth stones.
What I really enjoyed about this one was that during the last segment, I did a lot of navigating by eye. Between the area around Vesper Lake and the summit, you don't need to follow a trail (and there really isn't one, so that checks out). You just look to where you want to end up and start walking/climbing.
You can get to the summit by simply looking up at it and deciding what your best route will be to get there.
(And similar for the initial part of your descent)
It's also worth noting that Avenza Maps has an amazing GPS map for this hike[3]. I've never seen a map so accurate .. it was precise.
Here is my ascent and descent. The descent is a little shorter because I paused my Garmin near the end during a break and then hiked for a bit before I remembered to start it back up.
Note: According to my Garmin, the temperature reached 97° during my descent. It felt that hot in the valley between Morningstar and Sperry, and as I met people making their was up the valley at ~1pm, I felt bad for them.
And here's my ascent map, courtesy of Garmin: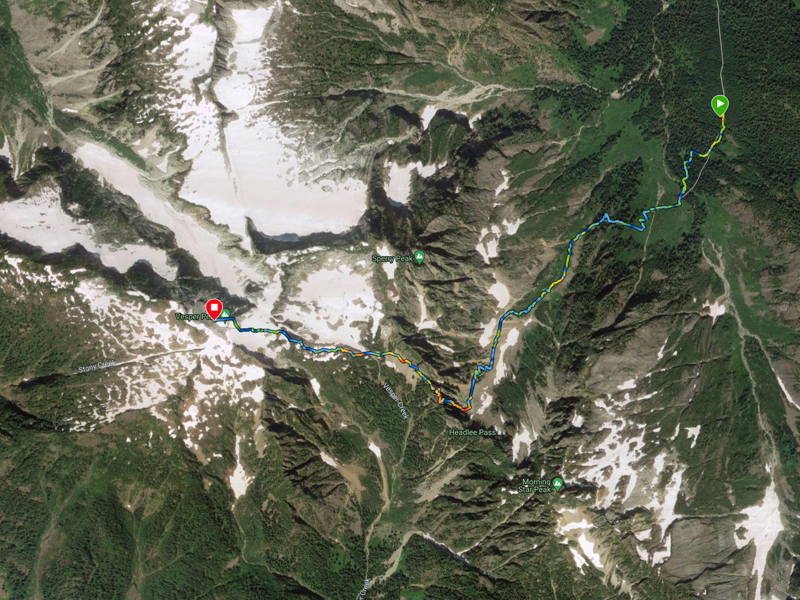 I'd like to break these down into two groups:
The trail: which is super cool and had many photographable features.
The summit; which has very rad views that can only be seen from that local area.
The trail is really interesting. It's highly variant, from talus slopes, to walking on loose rocks, to walking through Headlee Pass, across another rock field, and then a highly civilized section of dirt and grass prior to the summit. So I think it's worth capturing some of the trail in photos.
The views at the top are outstanding. The summit really is just a pile of rocks, adjacent to a massive 800' drop down along Vesper Glacier towards Copper lake. It's raw, and rugged, and beautiful.
Note: all images are clickable for higher-rez versions.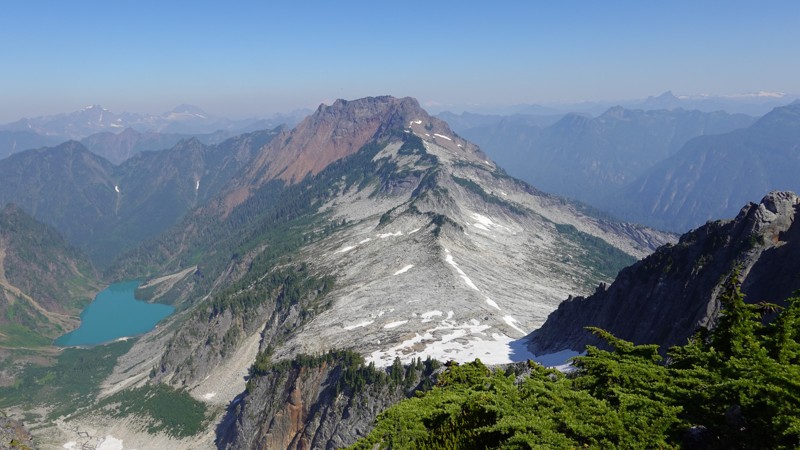 That's an amazing photo of Big Four mountain directly ahead, I'm looking exactly north, there's a massive ridge that extends south from Big Four. Copper Lake is to the left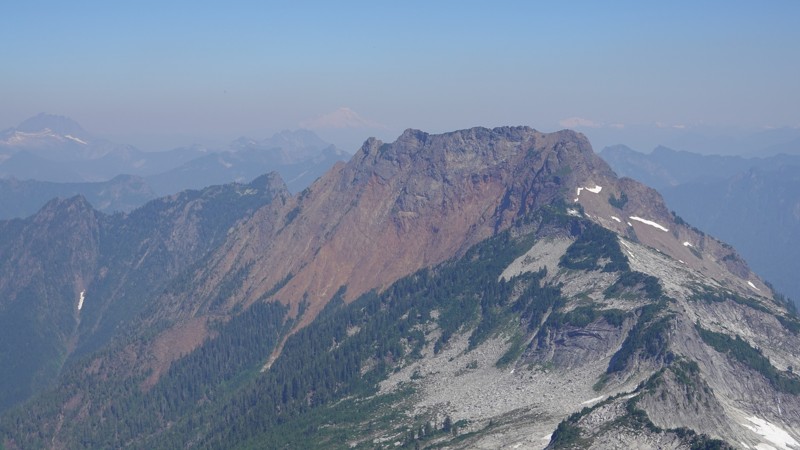 Due north: Mt Baker (distance/left), Big Four, Shuksan (distance/right), and Three Fingers (far left).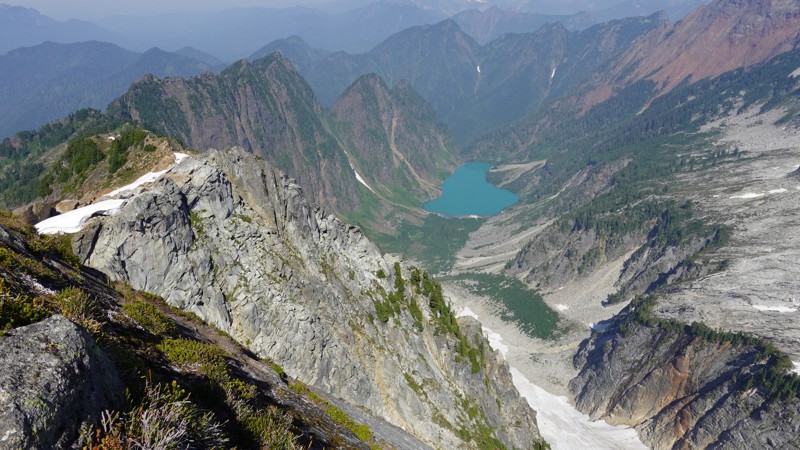 Northeast, towards Copper Lake. What's a little hard to discern is just how massive, and steep the rock face on the left is. The drop from where I am standing to Copper Lake is 800'. Apparently, people do climb in that area (rock climbers, naturally).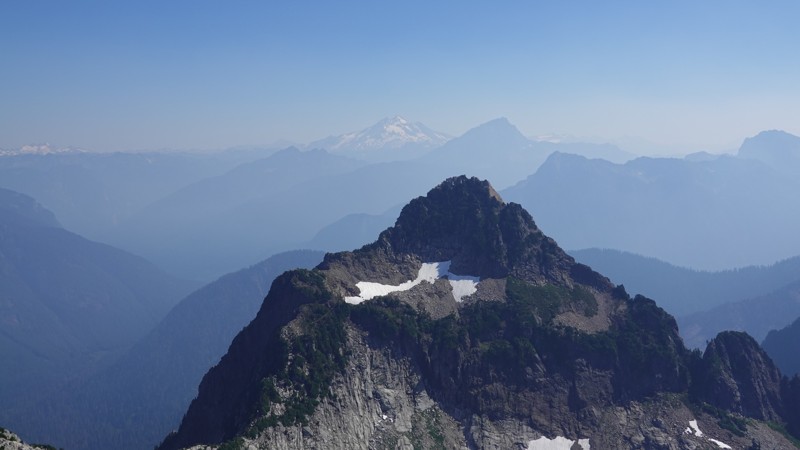 Looking east, towards Sperry Peak. Glacier Peak is in the background. Sloan Peak is in the mid-ground, off-center right.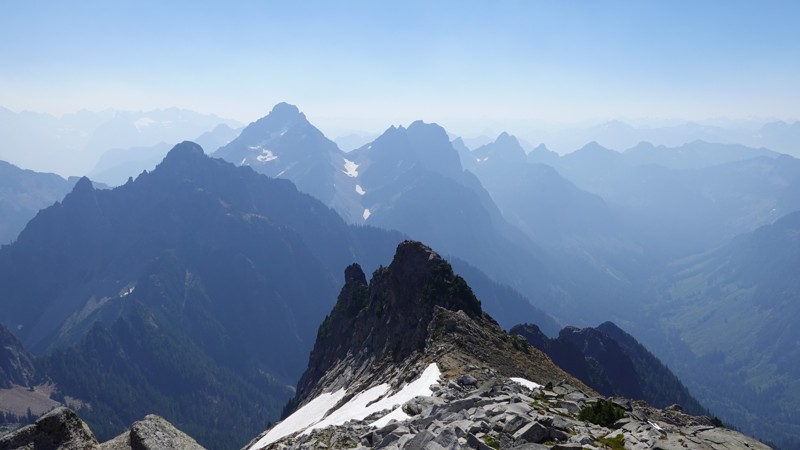 Looking southeast. Morningstar is on the left, then Del Campo (tallest), then Gothic Peak (to the right of Del Campo). Such a great view. The snow in the distant center is the glacier area between Del Campo and Gothic Peak.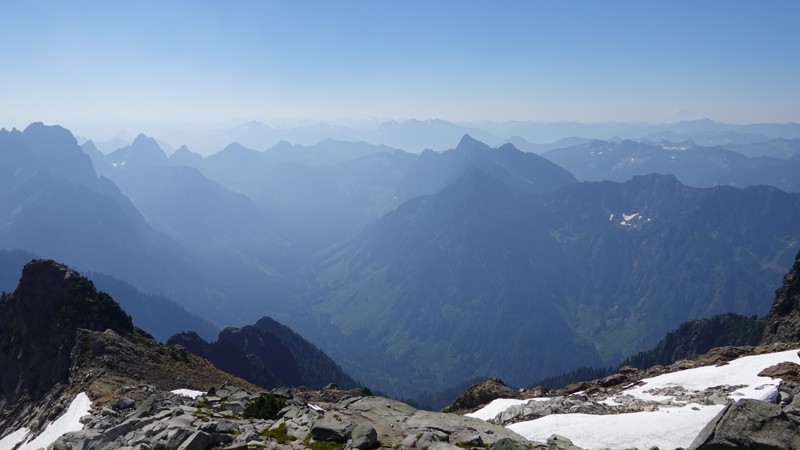 Looking south. You can see Rainier on the right-hand side, and it's 80 miles away, so, maybe visibility wasn't all that bad, despite the wildfire smoke.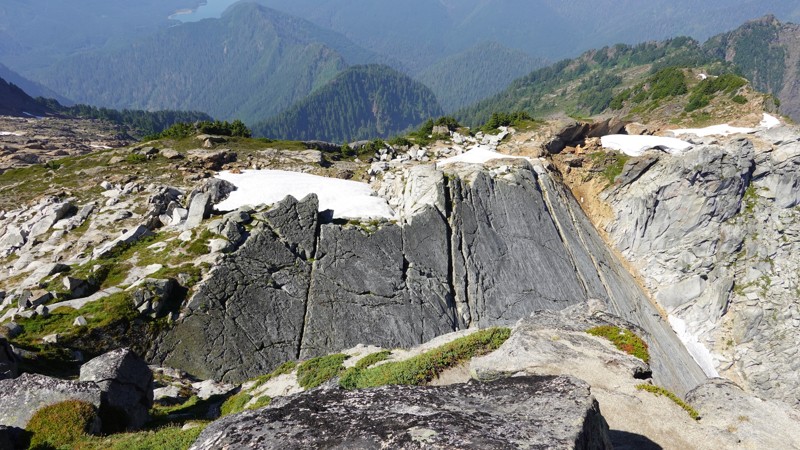 Looking northwest: that flat slab of grey is as large as several footballs fields, and slopes down at an impossibly steep angle.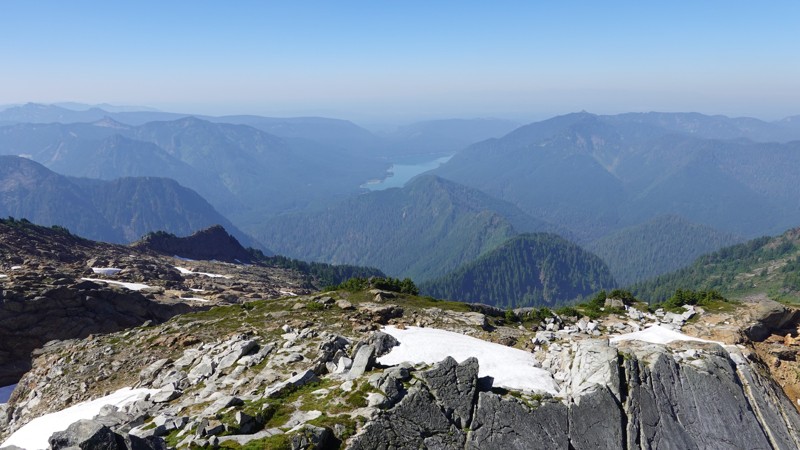 Looking southwest, towards Spada Lake (which is a massive lake and looks like it's totally worth visiting)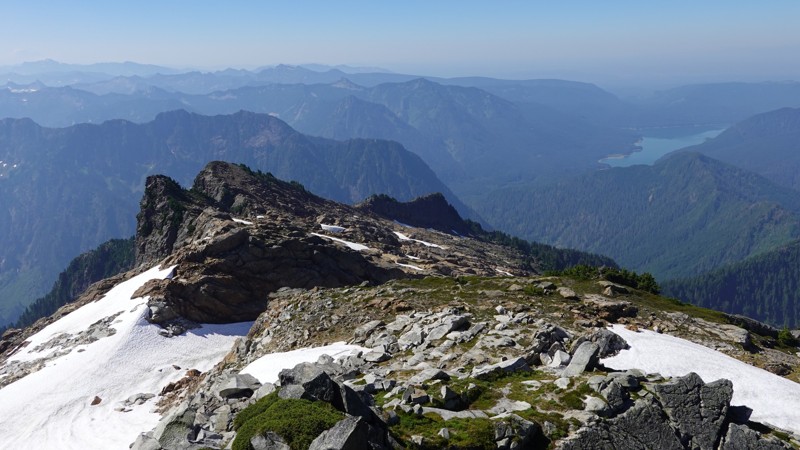 Another view southwest, showing the rocky crags of Vesper and the beautiful valleys that seem to extend forever.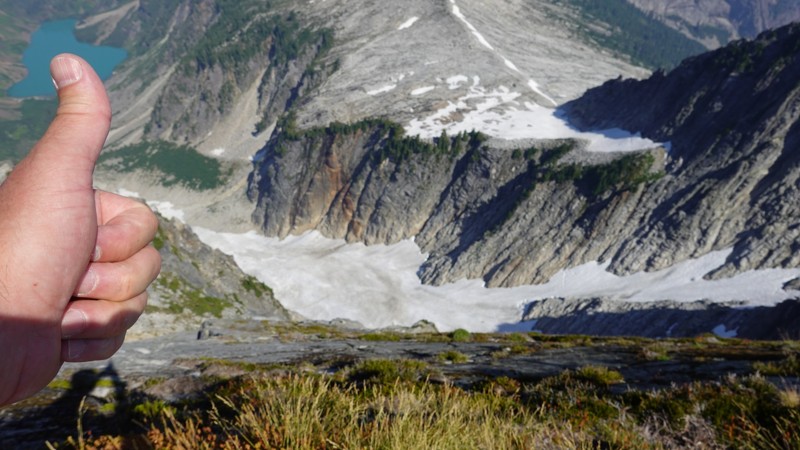 My hand is supposed to help show the perspective that this is an 800' drop, nearly straight down, and it's [literally] right next to the summit. I chose the "safe route" away from that part on my way to the summit.
Vesper sits at the intersection of a half-dozen insanely steep ridges, many with flat faces, that descend towards Copper Lake. I wonder a lot if that's why it's cobalt blue (lots of minerals).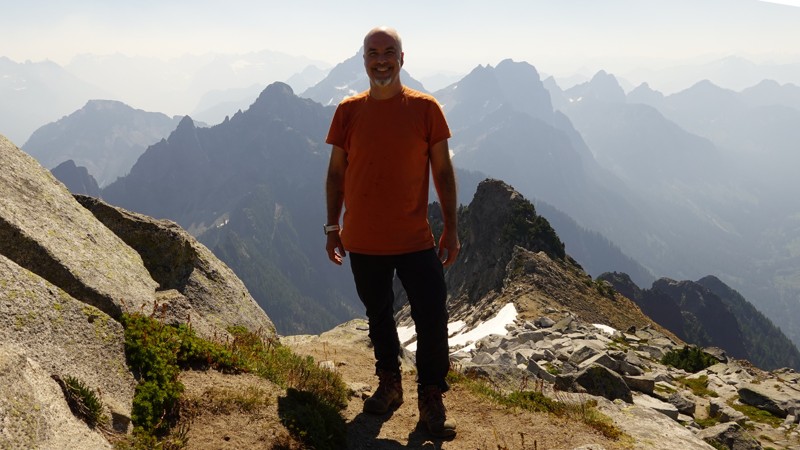 I was really happy to make it up there. I arrived at 11am and stayed for about a half-hour before beginning my descent. It was super hot on the way down, so this was a good call.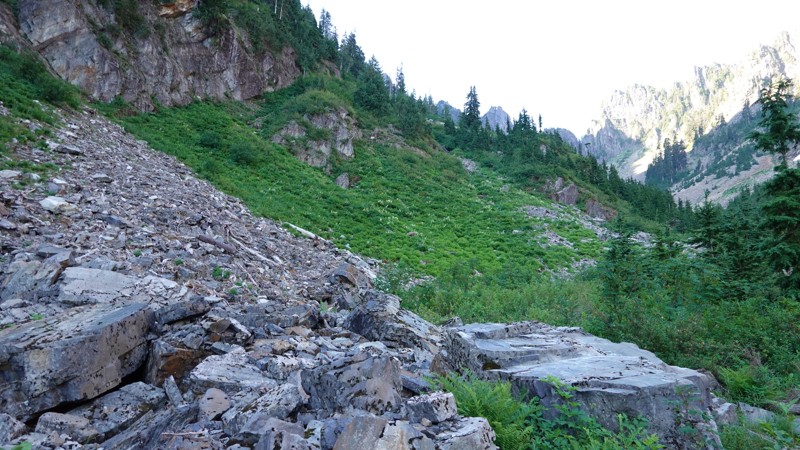 This is the rocky canyon you hike through on the way to Headlee Pass (pronounced "heed-ly"), first thing in the morning. I was alone on the trail until I got really close to the summit.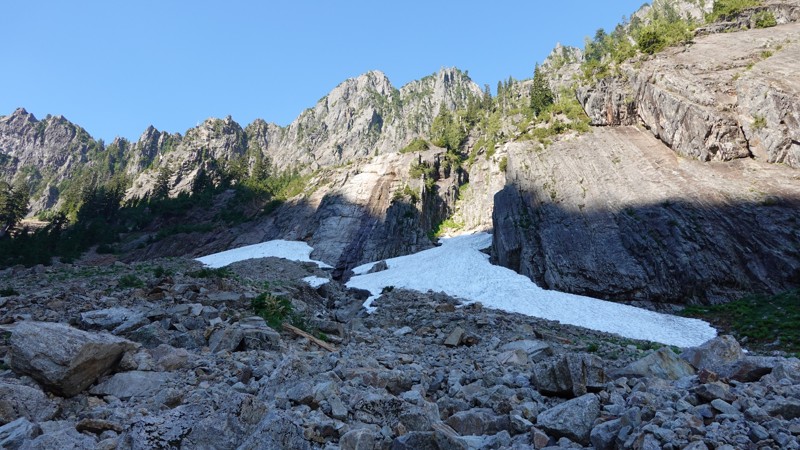 The walls of the canyon are incredibly steep. You hike between Morningstar and Sperry Peak. This photo is of lower Sperry.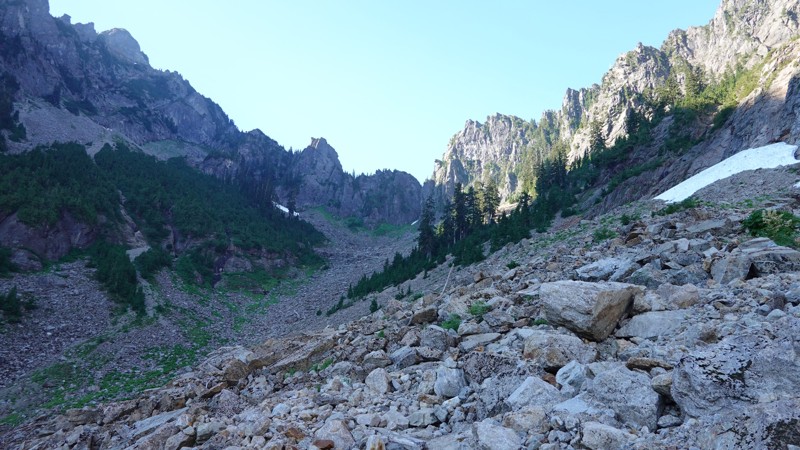 Looking up the canyon at my destination (the pass). It's all the way back and then directly to the right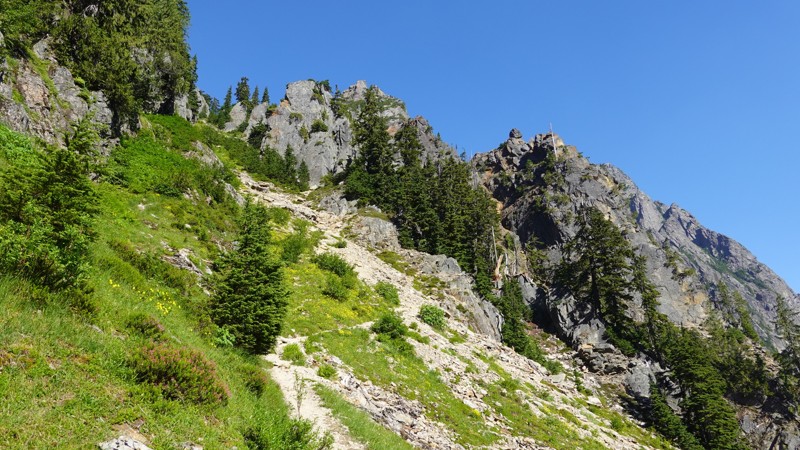 Looking directly up at Headlee Pass. It's as steep as it looks. If I didn't have GPS I might have missed it (I overshot the trail and had to walk back and find it again).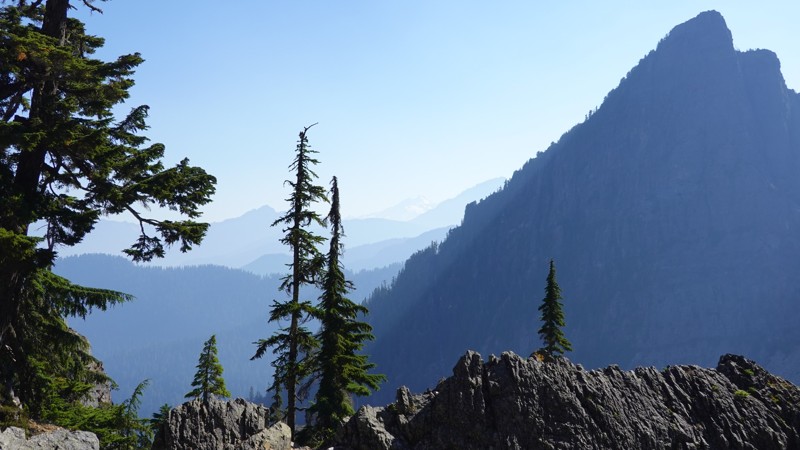 The view from Headlee Pass, looking northeast. The mountain way in the distance almost certainly has to be Eldorado Peak.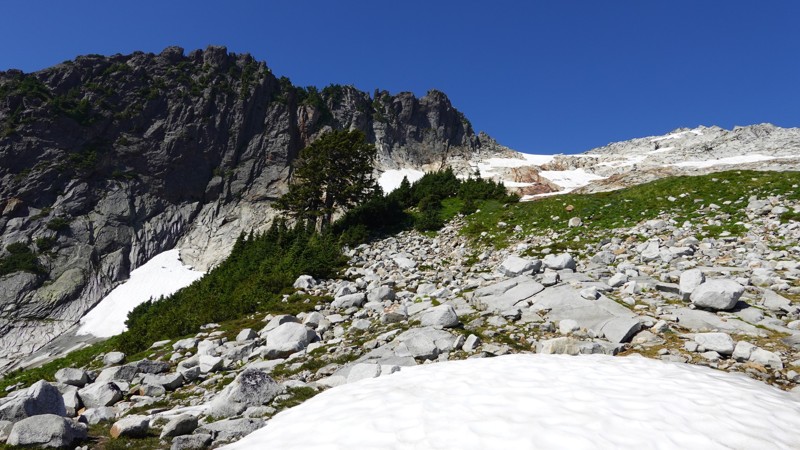 Looking up at the summit (right hand side), from lower Vesper, near Vesper Creek. The trail near the summit is the most enjoyable part. The views are great and the terrain is rad.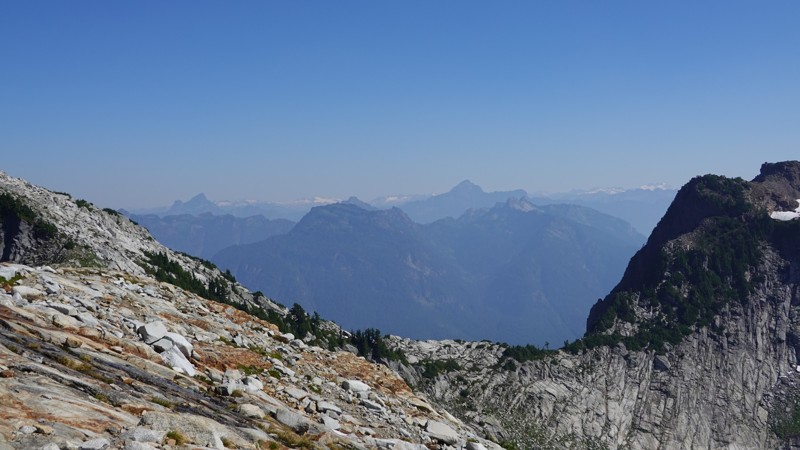 Looking northeast, from just below the summit. You can see Whitechuck (left) and Mt Pugh (right)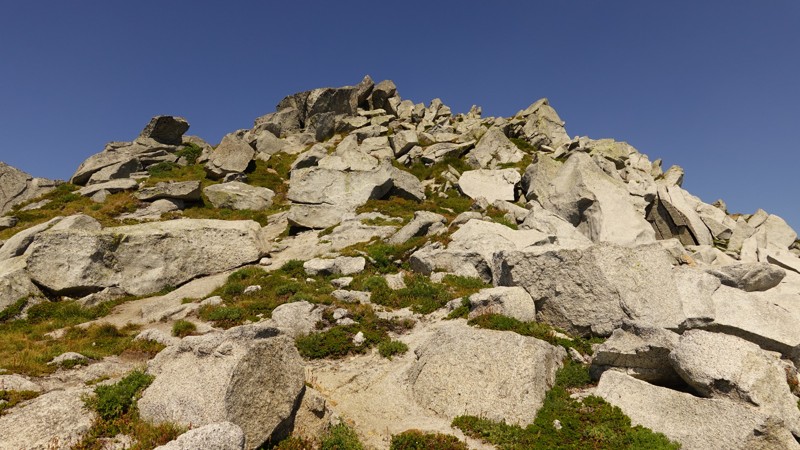 The peak of Vesper standing 100' below it. It really is just a pile of big rocks at the top. It's [literally] a tip.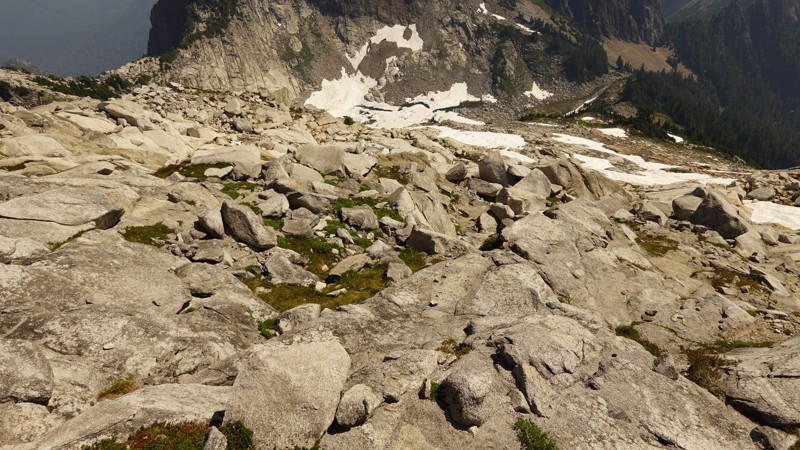 This is what the non-trail looks like in that section. It's really cool, because you don't follow a trail, you follow the terrain, and landmarks in the distance, to understand where to go.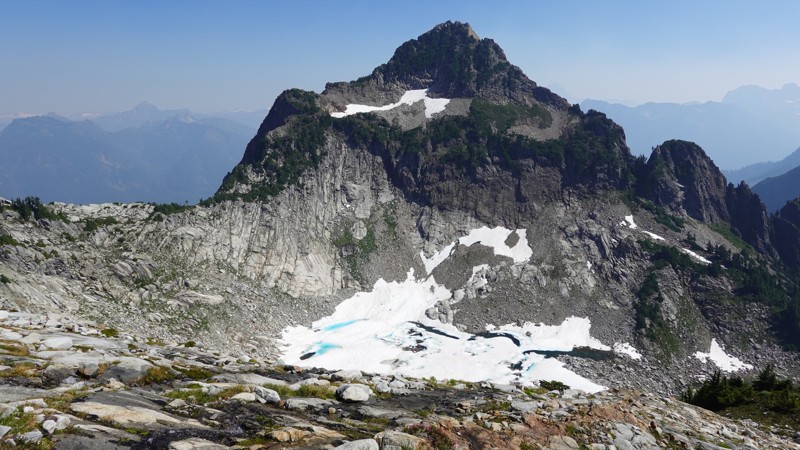 One of the only photos I got of Vesper Lake. It's mostly frozen over, and it's late August. The lake basin is rocky and has many cool textures to it.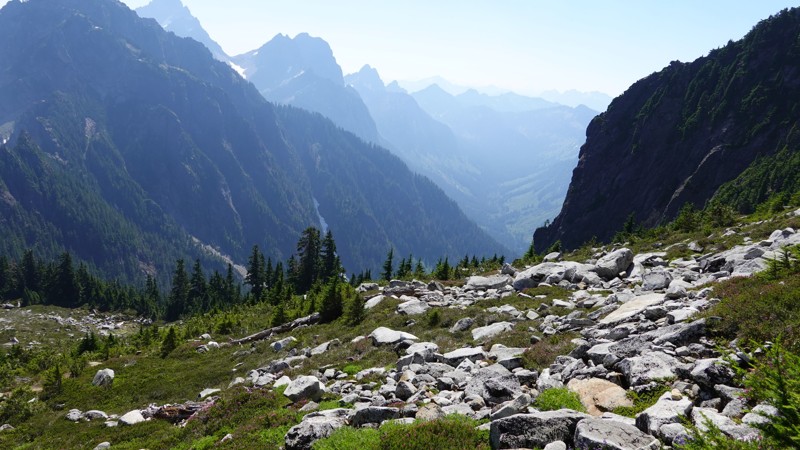 The valley into which Vesper Creek flows. There are some amazing camping sites in this area.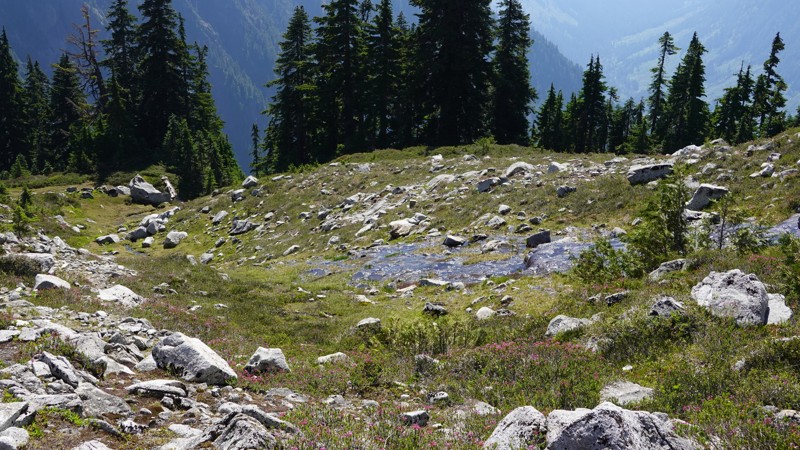 There was water everywhere up there. Since there are actively melting snowfields, there were streams of water everywhere (which is always comforting).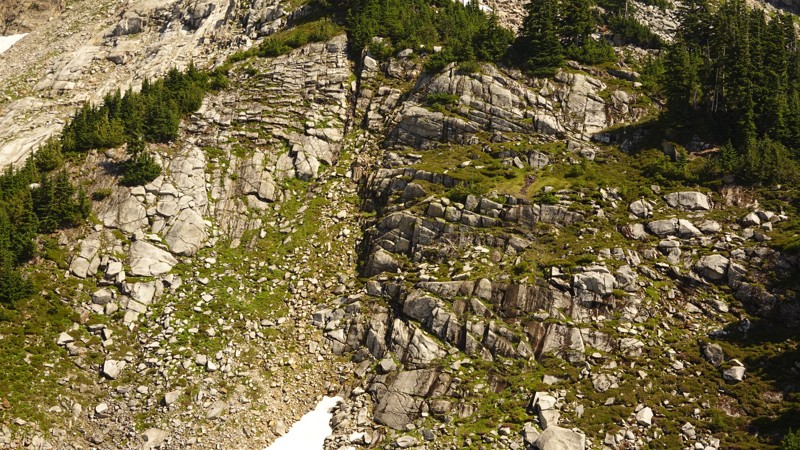 I love this photo. It's part of the Vesper Lake basin. I really like the textures, colors, and patterns. It's wickedly steep, impossible to climb up there.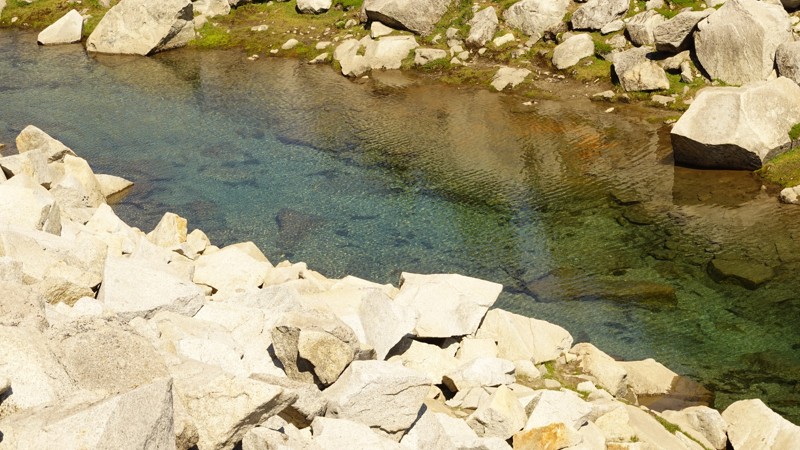 Vesper Creek was flowing, fed by innumerable streams of melting snow. It had this unique green/blue hue.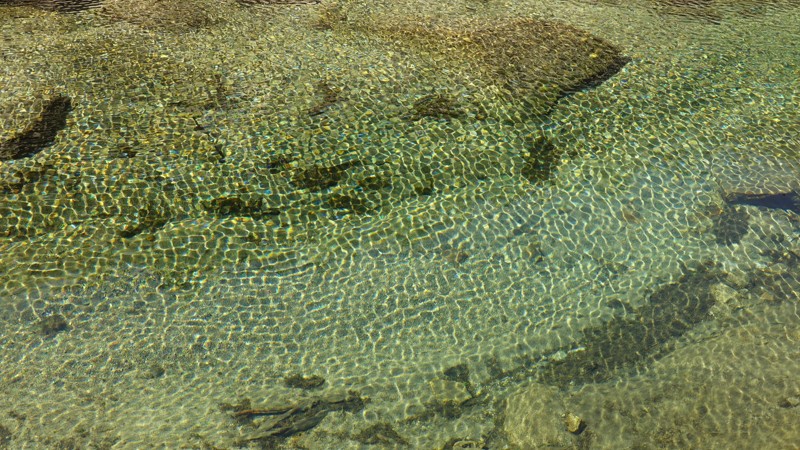 The outlet stream also had this very cool textured ripple on the surface.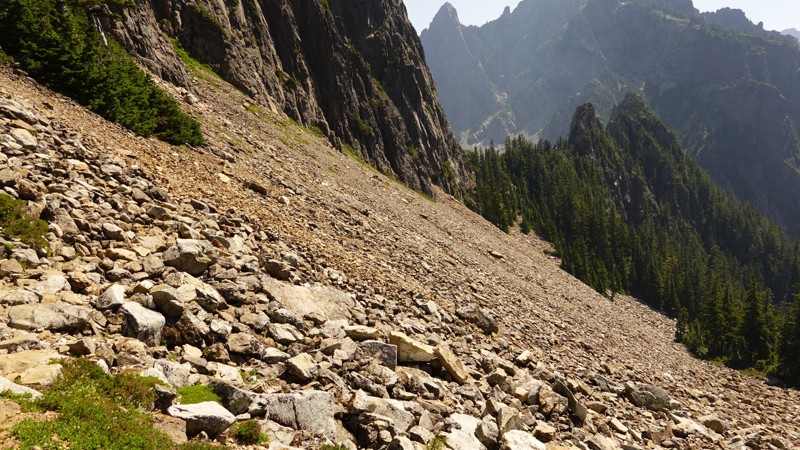 This is the boulder field you have to cross between lower Vesper and Headlee Pass. It's easy to cross, and the rocks are super cool (in shape, and color).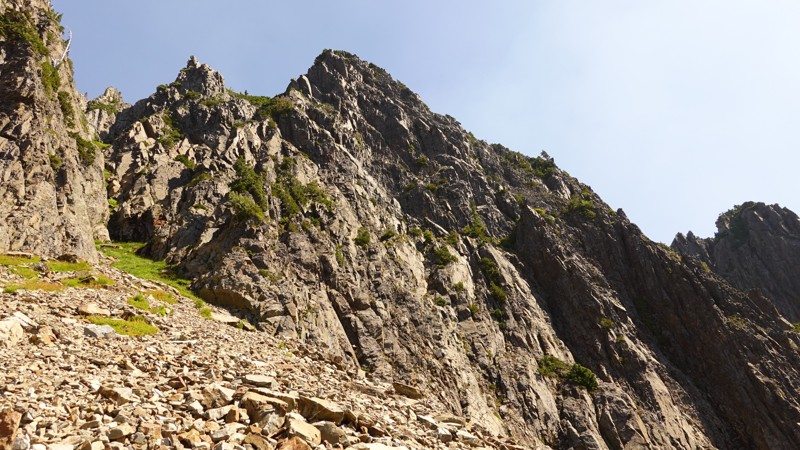 Looking up from the rock field you see the menacing sides of Sperry Peak.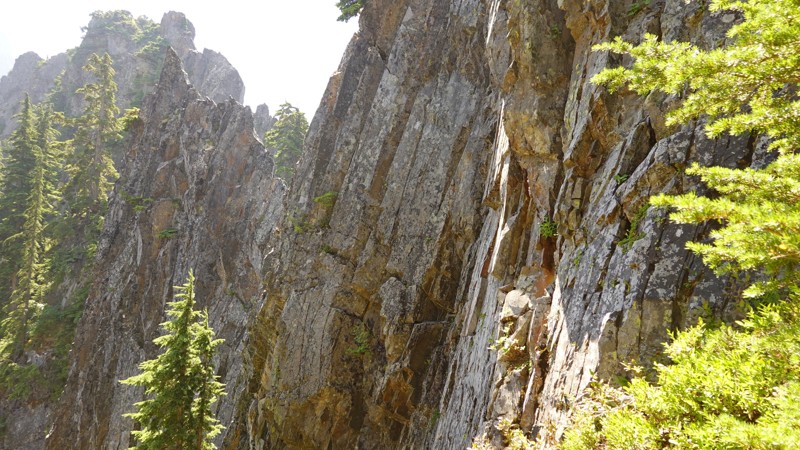 Coming back through Headlee Pass you can see just how steep the surrounding walls are (and therefore what makes this a pass).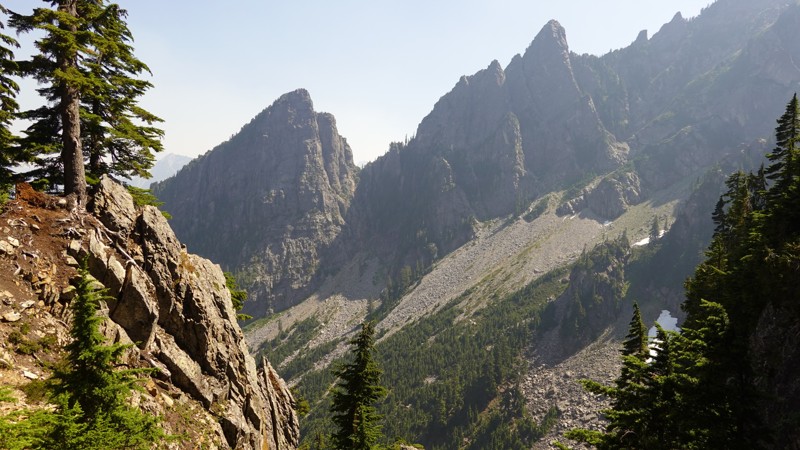 Looking out into the valley between Morningstar and Sperry from Headlee Pass. The max temp my Garmin registered on my descent was 97°, so it was quite hot.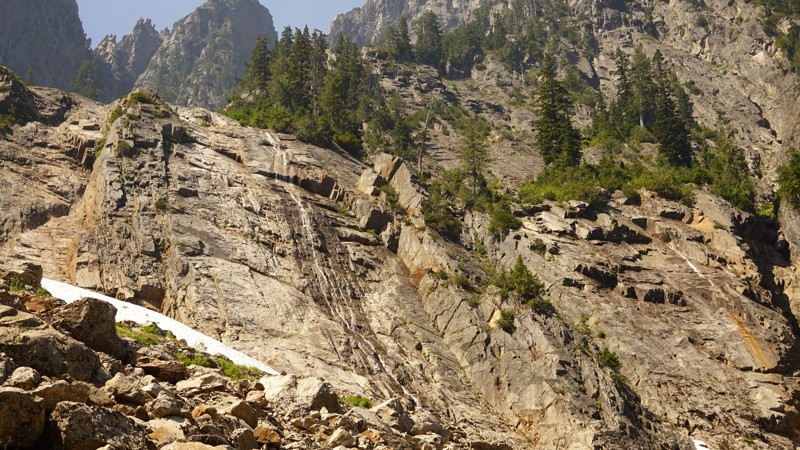 The canyon has so many cool textures in the slopes, and a handful of waterfalls along the way. Those walls are just impossibly steep. "Hello World!".