I Had An Unexpected Dinner Guest Recently
The first hand I shook in 9 months turned out to be an auspicious one: it was Derek Ronspies, former owner of one of my favorite restaurants here in Seattle, Le Petit Cochon. He just showed up at the house one evening.
(I shook his hand mostly because I was shocked to see him)
Turns out, he was the main guest for one of the best birthday presents I've ever received, compliments of my girlfriend Wendy (who arranged the whole thing in secret), and so it was a total surprise. Wendy hired him to come over and cook a four course meal in my kitchen. Derek showed up with a bunch of ingredients, sauces, etc, wine & beer (for parings), and some critical kitchen implements (like some knives) and then proceeded to cook an amazing dinner.
Photos or it didn't happen: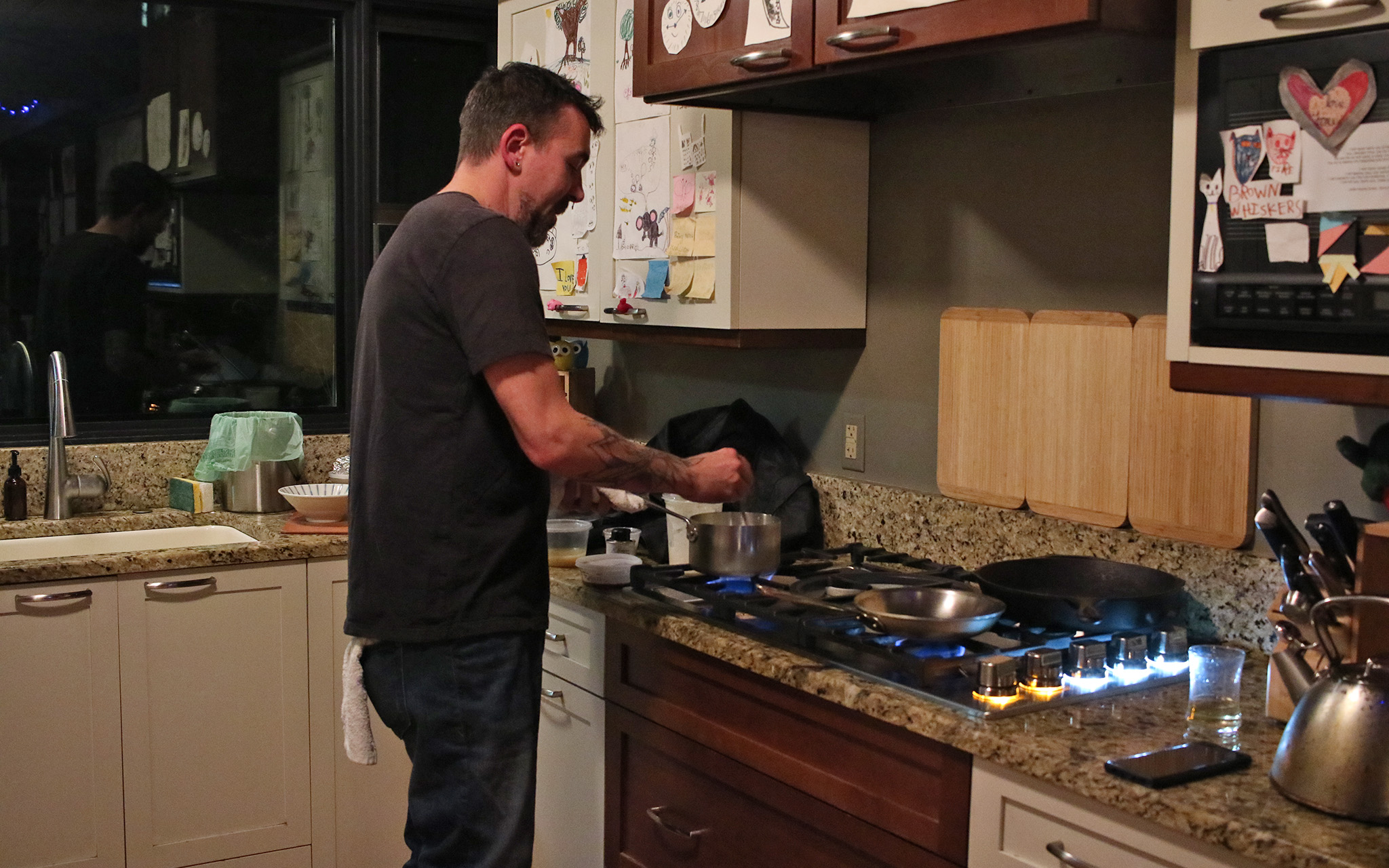 Chef Derek, Making the Most Out of My Kitchen
I took advantage of the situation to ask a ton of cooking-related questions .. he was really kind in terms of providing guidance. I'm excited to try to make a couple of things I've struggled with over the years using his advice: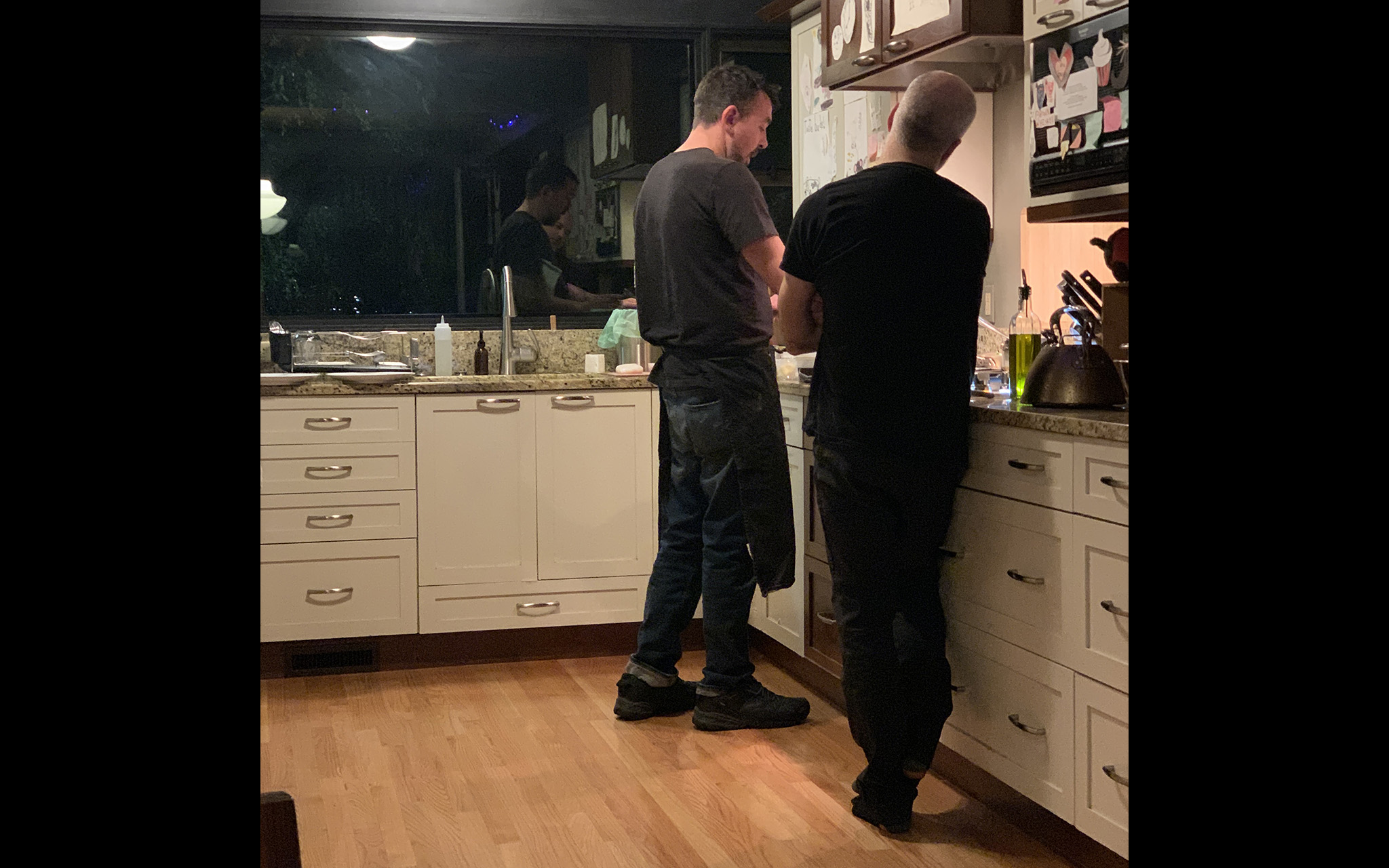 Is Tom Learnin' Some Stuff? Hopefully.
I didn't take too many photos (I was too busy chatting), and I won't do the menu justice in my description, but here it goes: the first course was a sunchoke soup with homemade falafel and an herb infused olive oil drizzle. The 2nd course was a smoked brisket, served with cornmeal croutons, pickled apples, and roasted beets. The main course was halibut, served over kale and bacon bits and topped with lemon zest, grilled onions, herbs, and a brown-butter sauce. Desert was chocolate mousse topped with almonds and coconut:
First course: Sunchoke soup and homemade falafel: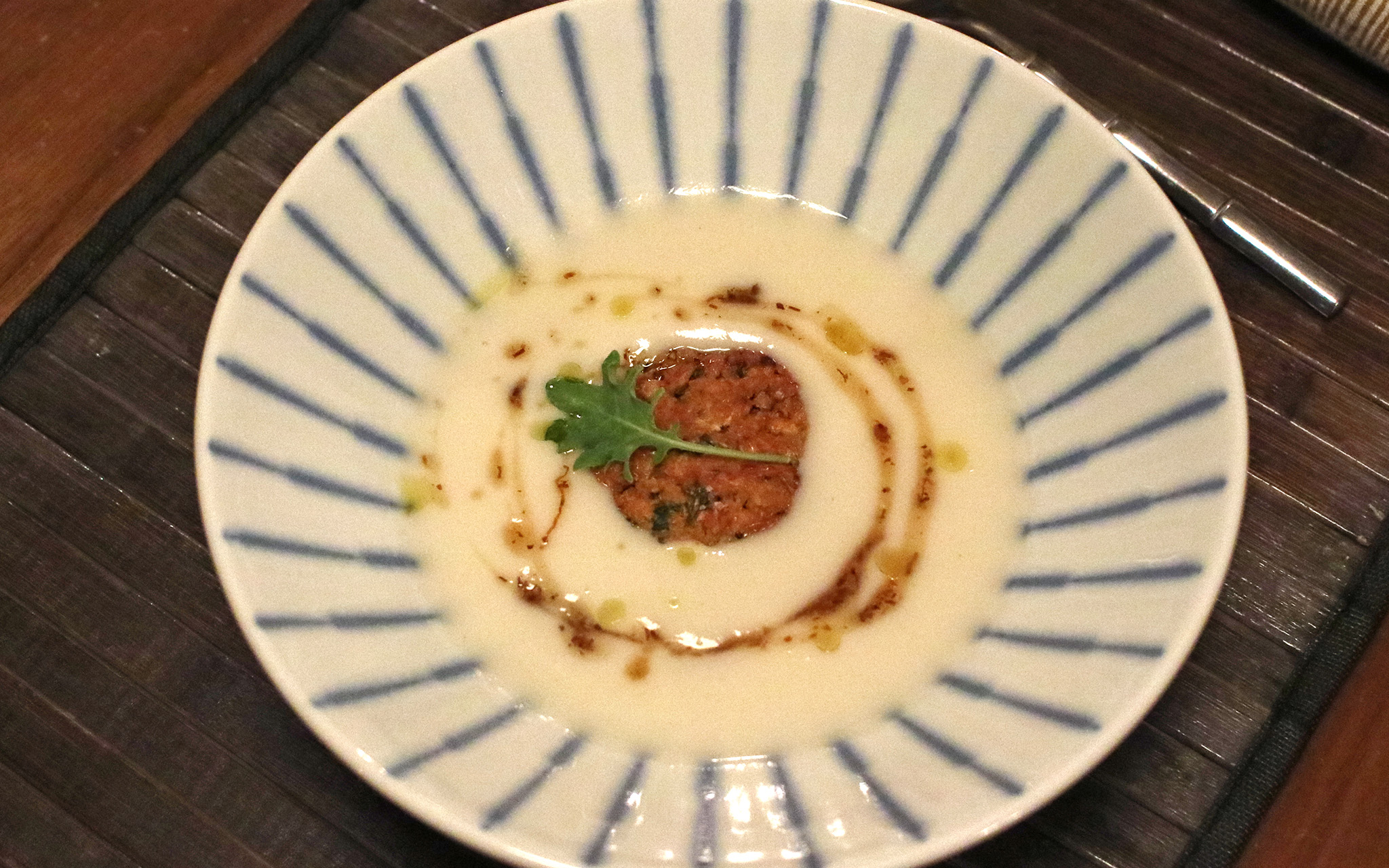 Sunchoke Soup
Second course: Smoked Brisket & Cornmeal Croutons:
Smoked Brisket & Cornmeal Croutons
Main course: Halibut With Kale, Bacon, Shallots, and Lemon Zest: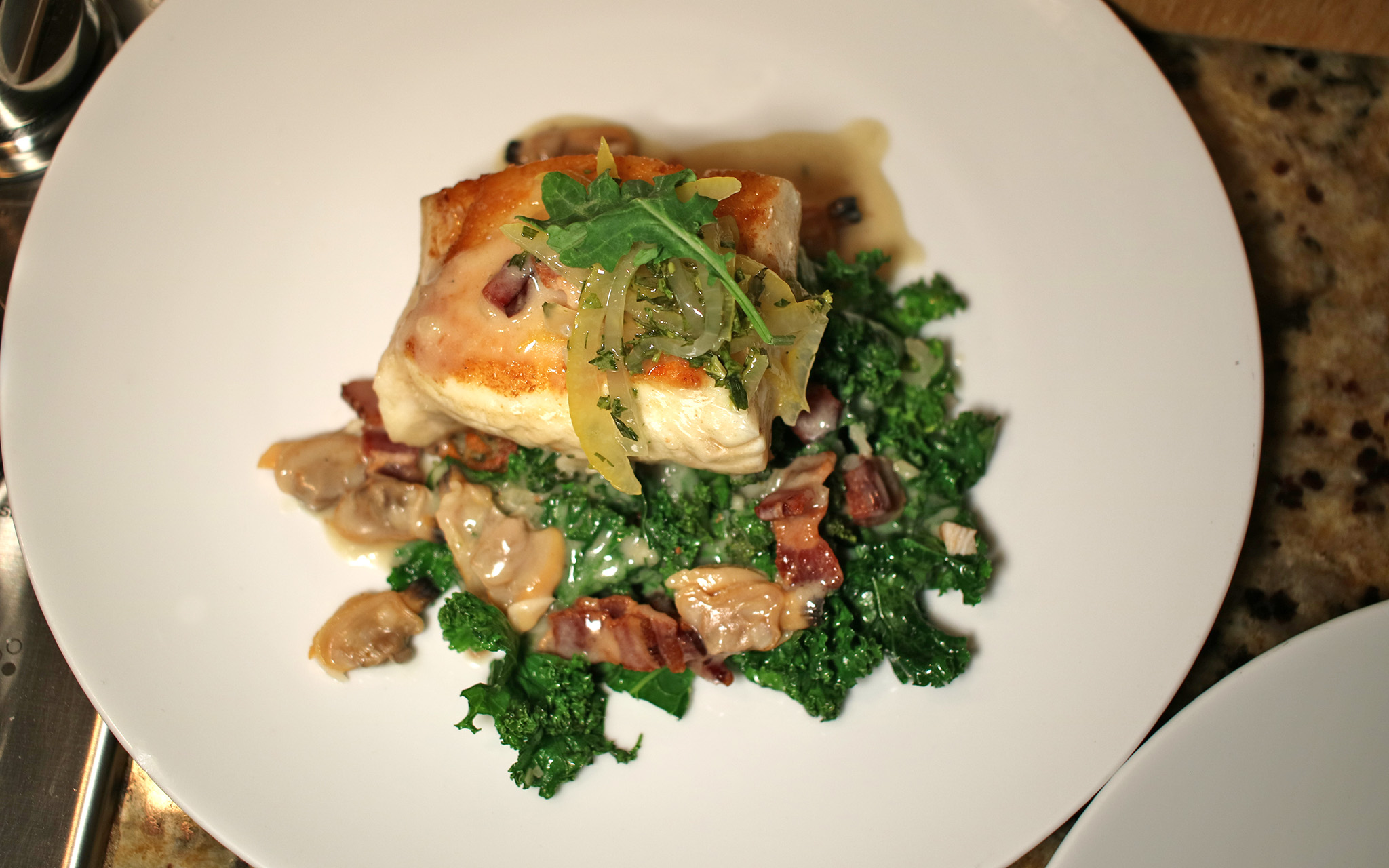 Halibut With Kale, Bacon, Shallots, and Lemon Zest
The first two parings were beer, both from the Matchless brewery (Old World Lager and Hazy Ipa), then a white wine (Clivi Galea 2015), and for dessert, he served his own liqueur.
The food was ridiculously good.
Derek is a very nice guy, and a wonderfully ambitious and talented chef.
Anyways, pandemic birthdays are almost always profoundly compromised, but thanks to Wendy, this one was amazing. (I think we were both a little star-struck, partially incredulous that Derek was in the kitchen).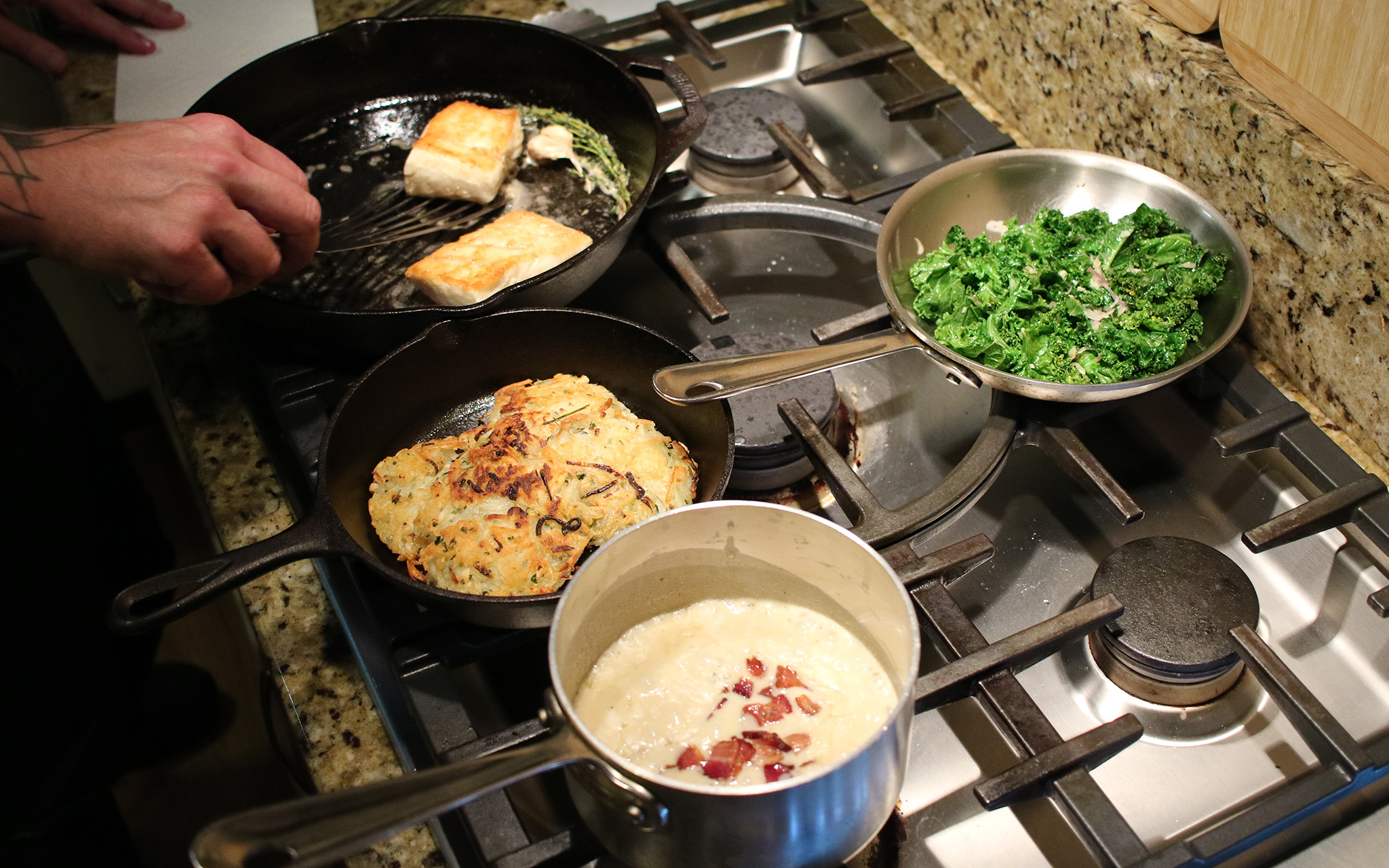 The DCS Cooktop Really Got a Workout